A 55-year-old woman from Manchester who suffers from peripheral arterial disease and will soon have her left leg surgically removed is looking for a manufacturer willing to make her a leather handbag from the skin on her amputated limb.
Sewport, an online marketplace that connects brands and manufacturers, received a bizarre request from a woman looking to get in touch with a leather processing expert about having a leather handbag made from the skin on the leg she's about to have surgically removed for medical reasons. Instead of dismissing her inquiry right of the bat, Sewport experts read the woman's message and determined that her reasons were valid, so they decided to help her with her search. Apparently, the 55-year old, referred to simply as Joan, cannot come to terms with the idea that her leg will become medical waste after the surgery, so she came up with this unusual plan to at least keep part of it.
Photo: HeungSoon/Pixabay
"I know it is a bit odd and gross, and some might think I'm crazy, but it's my leg and I can't bare the thought of it being left to rot somewhere," Joan wrote in her message to Sewport. "It's part of me and I want to keep it."
"I know it's gross, but people keep their baby's umbilici chords and have relative's ashes on display, so it's not really that weird if you think about it."
Photo: Sewport
Sewport revealed that Joan decided to get in touch with them after reading another unusual request from a woman who wanted a dress made out of her mother's hair. She said it had inspired her to do something similar. To show that she was serious about her plan, the 55-year-old woman even emailed Sewport a sketch of the accessory she had in mind, a medium-sized bag with a short strap.
Joan says she has about £3,000 ($3,900) set aside for this project, but adds that if it's not enough, she can be flexible about the budget. What's important is to find someone actually willing to make her dream come true.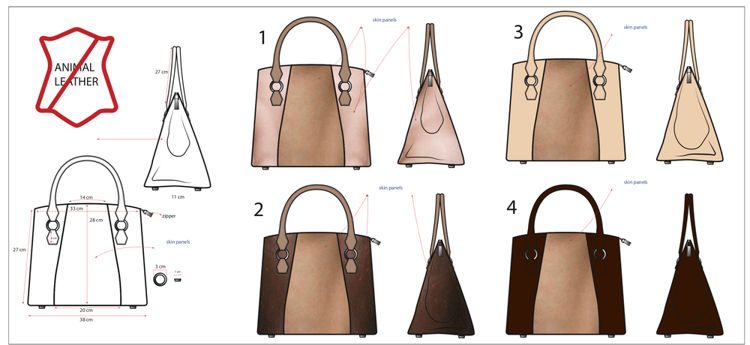 Photo: Sewport
Right now, Joan is reportedly in talks with the hospital to see if she can even keep her amputated leg after the surgery. "I'm finding out whether I can keep my leg after the surgery and the discussions have been positive so far, so fingers crossed!" she wrote.
Sewport is currently searching for manufacturers willing to help Joan with her unique request and are asking anyone who can help to email them at [email protected], with the subject line "amputee handbag".