Despite being just 13-years-old, Lilith Siow is already one of the most talked-about tattoo artists in Singapore.
Lilith first made international news headlines in 2019, when she attended the Culture Cartel Exhibition, in Singapore, where she showed off her steady hands and ability to work under pressure. The now 13-year-old is the daughter of Joseph Tan of Visual Orgasm Tattoo, a famous tattoo artist in Singapore, with over 20 years of experience under his belt. Joseph asked her if she was interested in tattoos and picking up the skills to do tattoos herself, and when she said yes, he started taking her to the shop with him.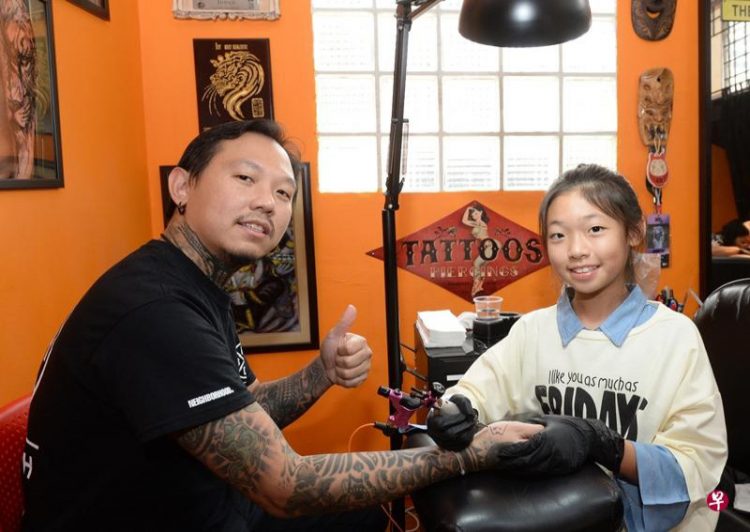 The young girl would spend her weekends and school holidays hanging around her dad's tattoo shop, observing him work and picking up various tricks, and in just six months time, she was ready to do her first real tattoo. Lilith's first "victim" was one of her dad's friends, who let her ink a cartoon character onto their body. She was nervous, and took about 90 minutes to complete the tattoo, but she ended up doing a decent job.
"I was afraid at the beginning," Lilith Siow admitted. "You can erase a drawing when you make a mistake, but once a tattoo sets, it is forever."
Lilith's confidence grew in time, and she had already done dozens of tattoos since her first one. Still, her dad jokingly said that he wouldn't let himself be inked by her just now, adding that he has saved some space on his body for when she is ready, though.
Known as Singapore's youngest artist, Lilith Siow is still studying the art of tattooing as her father's apprentice, but she is set to take over from him in the not-so-distant future.
Back in 2017, we featured another tattooing prodigy, Ezrah Dormon, from Panama City, who at 12 years of age was one of the world's youngest tattoo artists.