At an age when most kids keep their hands busy with video game controllers, smartphones or tablets, 12-year-old Ezrah Dormon, from Panama City, is already a popular tattoo artist. Despite his young age, people are lining up to have him ink a permanent tattoo into their skin.
Tattoo parlors are usually off-limits to kids, but walk into the Honolulu tattoo shop in Panama City, and you may see a cute long-haired kid painstakingly working on a client's tattoo or honing his inking skills on a grapefruit. His name is Ezrah, and he is already one of the most in-demand artists in Panama. I don't know what it is about getting tattooed by an inexperienced child, but people are reportedly lining up to have him work his magic on them. They've all been pleased with his work, too.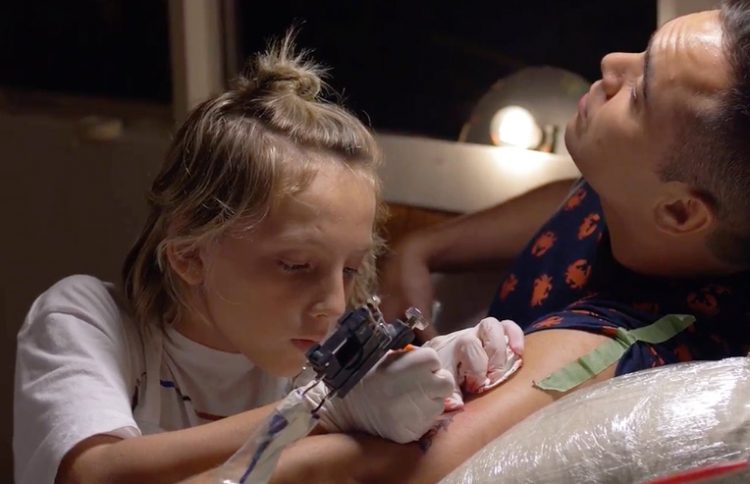 Photo: Tomas Cortes
Ezrah's career as a tattoo artist began one night, while watching Honolulu owner Ali Garcia ink a flower on his mother's hand. His parents, both artist, regularly host get-togethers, and this particular occasion was a group tattooing night. The young boy, who had always been interested in art and drawing, was fascinated by Garcia, saying things like "Wow, I really wish I could try that, I would love to know how to do that." At one point, impressed by the boy' enthusiasm, the professional tattoo artist said "Well, why don't you try it now?". He filled up a small part of his mother's tattoo, and he just fell in love with the craft.
The middle-schooler has been apprenticing at the Honolulu tattoo parlor ever since that night, learning all the aspects of the craft, from hygiene to technique, from Ali herself. She has him drawing and practicing every day, and he' has already made huge progress. Apart of grapefruits, Ezrah regularly fills actual clients' tattoos with color, and he has even completed around 20 tattoos of his own.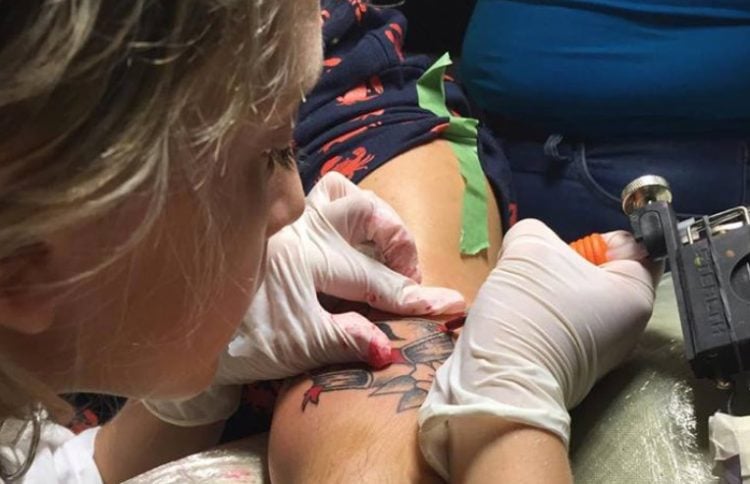 Photo: Ali Garcia
"In the beginning, when I just started doing it, I was a little bit nervous," the 12-year-old said. "But then, once I started getting the hang of it, it started, like, flowing."
"Whenever someone comes to get a tattoo, they always have to know that I'm still learning, that I'm just an apprentice," Ezrah adds. "So if they feel comfortable offering up a part of their body that I can do and try to do my best job I can. They'll always be a little bit nervous, but they're always usually excited."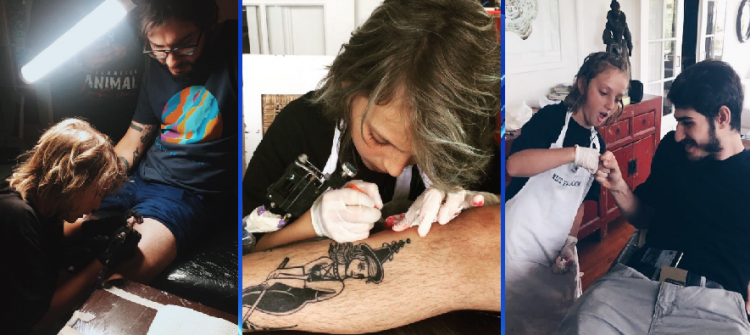 Photo: Instagram
Ezrah Dormon likes old-school tattoo designs, like sharks and snakes, and dreams of one day relying on his tattoo gun to support himself and travel the world. His parents are also very supportive of his new-found passion, and believe starting out as such a young age will prove a big advantage.
"It's beautiful to see him flourish like this," Ezrah's mother, Wynter said. "We also understand the freedom that comes along with being good at your trade. I slugged it out behind the bar to support myself through school, but he will not have any limitations. He will be able to tattoo or teach because he is learning this all at 12 years old. This is truly a gift."
I'd probably think twice before letting a 12-year-old kid permanently ink me, but I will admit that he seems more talented than this 26-year-old Brazilian tattoo artist.