Sahar Tabar, a 19-year-old woman from Iran, has been the talk of the internet over the last couple of days due to her zombie-like appearance, which is a apparently the result of dozens of cosmetic procedures meant to make her look like Angelina Jolie.
We live in a world where super fans often go under the knife to make themselves look like their idols, but whereas most end up with doll-like features, Teheran-based Sahar Tabar looks like a real-life character out of a Tim Burton animation. She has in fact been compared to the "Corpse Bride", and looking at some of her Instagram photos, you can see that the comparison actually makes sense. It's obvious that the 19-year-old uses makeup and creepy contact lenses to enhance her undead look, but those prominent cheekbones, inflated lips and plastic-like nose seem to be her real features.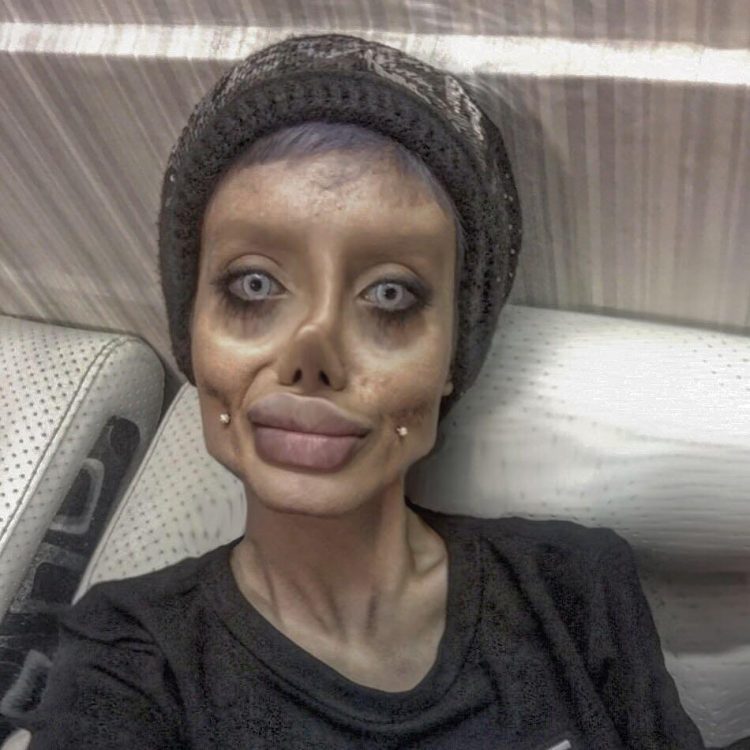 Photo: Sahar Tabar/Instagram
According to Al-Arabiya, Sahar considers herself Angelina Jolie's biggest fan, and "would do anything" to look like the famous Hollywood actress. She has allegedly undergone around 50 plastic surgery procedures to emulate some of Jolie's most iconic facial features, like her prominent cheekbones, plump lips and sharp jawline. Only she seems to have gotten a bit carried away in her quest to emulate the look of her favorite celebrity…
And as if all that plastic surgery wasn't bad enough, Tabar has allegedly also adopted an extreme diet in order to keep her weight at around 40 kilograms.
What I find a litle suspicious is how different Sahar looks in some of her Instagram pics. Yes, she's definitely had work done on her nose, lips and jawline, and she's basically just skin and bones, but her transformation doesn't look so extreme if she's not wearing contacts and using makeup to emphasise her features.
So far, it's been difficult to confirm all these claims about Sahar, as all we have to work with are her Instagram profile, and different versions of the same article picked up by various media outlets. However, seeing as how Sahar's old Instagram profile – where she posted photos of her old self – hasn't been updated since May, and her new one was set up around that same time, I guess you could argue that the theory about he transformation dating back only a few months checks out. Maybe…
This could very well turn out to be the work of a very talented makeup artist, although the weight would be really tough to fake, but for now, we'll just call it one of the worst transformations in history, on par with that of "Catwoman" Jocelyn Wildenstein.
On the upside, Sahar's bizarre appearance has helped her achieve celebrity status on Instagram, where she currently has over 300,000 followers.