It's an odd day when you have to question an old, devout Catholic woman's morals for attending too many funerals. And yet, that's the position many have been placed in by 65-year-old Theresa Doyle, from Slough, in the UK, who has been attending every wake at her church for over 14 years now. That would probably be considered commendable on her part, if not for the many accusations that she's been doing it just to raid the free buffet. 
Theresa Doyle's funeral crashing habit recently made news headlines in the UK, with several of her neighbors and family members of deceased people whose wakes and funeral services she has attended over the years, claiming that she intrudes on people in their time of grief just so she can fill her stomach. She just shows up, pretends to have known the deceased and sometimes even chats with their friends and family, before grazing the buffet "like there's no tomorrow". Sometimes, she allegedly even takes some of the food to go.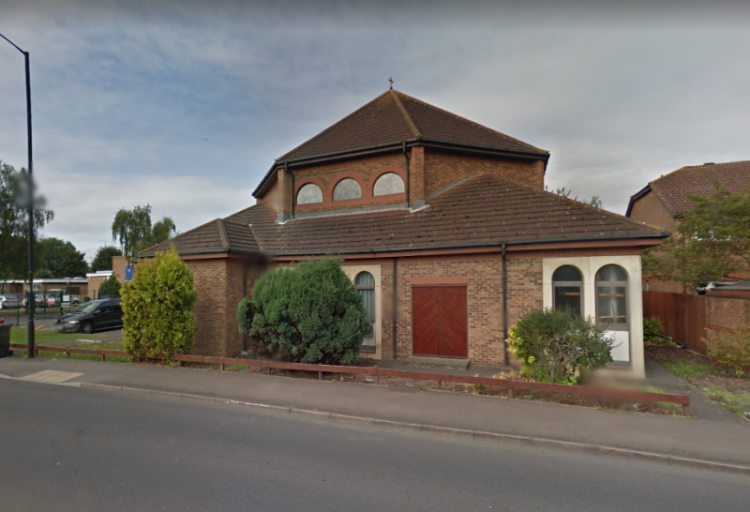 Holy Redeemer Church in Slough (Photo: Google)
"She leaves the house in her bright, daily clothes but tucked into the basket on her bike is a black funeral outfit which she changes into at the church venue," one of Doyle's neighbors told Daily Record. "When she arrives at the funeral she changes into the sombre clothes, goes to the wake and then helps herself to the food, bringing it back and putting it in her freezer. Theresa has been doing this for about 14 years now but the bizarre thing is she gatecrashes strangers' funerals and is completely brash about it."
Margaret Whitehead, who recently had to bury her daughter,  who died from Addison's disease, told reporters that Theresa Doyle just showed up at the funeral and started chatting it up with people. Her daughter had a lot of friends and coworkers, so she just assumed she was a colleague, but when she talked to her herself, Doyle told her that she used to work with her daughter when they were both waitresses. "My daughter never worked as a waitress," Whitehead said.
"She was eating from the buffet like there was no tomorrow, at the end of the wake she took out a Tupperware box, filled it up with food and cycled off with it in the basket on her bicycle," the grieving mother said. "There's Mass every morning, she doesn't need to go to funerals, she's only going when there's a cheap lunch. She intrudes on people when they are upset and sad."
Father Noel Connolly, of the Holy Redeemer Church, Theresa's favorite funeral crashing venue, says she knows all about her habit, but he has a slightly different explanation for it.
"Every funeral we have she comes and if there is a reception afterwards she makes her way to it without invitation," he told Metro. "She is a Catholic woman and she is convinced she needs to go to as many Masses as possible. She has been coming and going since I have been here for the past 14 years. I can't exactly say 'you can't come here'."
Well, Theresa may feel it's her God-given duty to make an appearance at every mass, but to mourners like Mrs. Whitehead, her presence is unwelcome and intrusive. A funeral service is supposed to be safe place where friends and family can openly grieve a loved one – not a place where strangers can grab a free lunch.
When questioned about her 14-year funeral crashing, 65-year-old Theresa Doyle told reporters "That's my business" before adding "I have to go. I've somewhere to be."
"When one man died here, she went to the funeral. She went around the corner of the crematorium and put her black dress on. When she realised there was no food afterwards she pulled her black thing off and went back up the road on her bike looking disgusted," one of her neighbors said. "You can't talk to her, because she is that sort of person. We have asked her why she does these things, but she just goes blank and doesn't say anything."