A Japanese robotics company has been getting a lot of attention for its unique heavy machinery – a humanoid industrial robot that can be remote controlled by a human.
With so much focus on artificial intelligence and concepts like 'the singularity', we sometimes forget that robots have been around for a long time and that they can be pretty valuable tools even without advanced machine learning or even the possibility to move around on their own. Think about the industrial robots in modern automated car factories, or those mine-clearing robots that help human lives, just to name a couple of examples. Now, one Japanese company is trying to bring attention back to these humble creations with an ingenious humanoid heavy-duty robot capable of performing all kinds of useful chores while also appealing to fans of mecha manga and anime.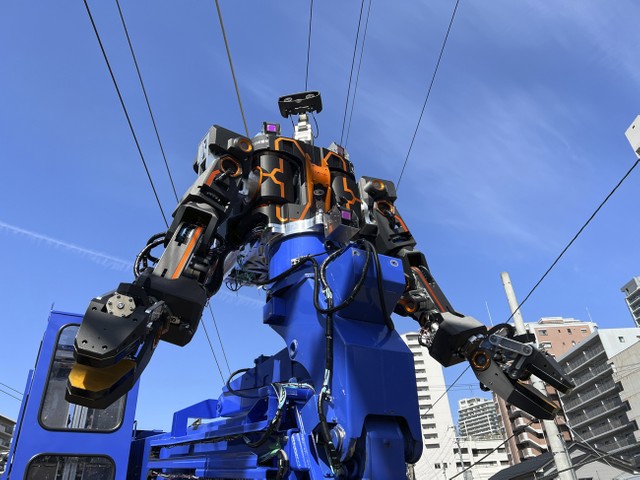 Jinki Ittai, a robotics startup located in Kusatsu City, Japan's Shiga Prefecture, recently unveiled a rather unusual, but very intriguing type of heavy machinery, an example of man-machine integration. Featuring a metallic humanoid robot – with a head, torso and two arms – extending out of a cabin similar to that of an excavator, this thing looks like nothing we've seen before.
Designed to perform maintenance work in a variety of fields, such as railway line repairs, or road sign replacement and repairs, the robot can replace teams of human workers and thus reduce the risks of serious work-related accidents. It can lift and maneuver heavy loads like steel pipes, plates or wires, and do its job just as well as any human because, well, it's controlled by one.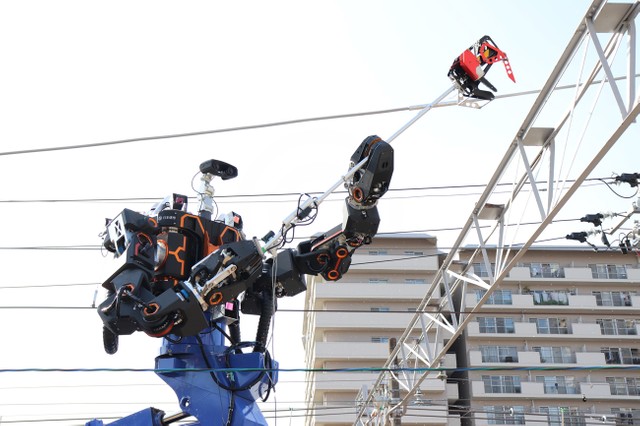 Jinki's humanoid robot basically replicates the movements of an actual human inside the cockpit of the heavy machinery. They have on special goggles connected to the eyes of the robot, and they can precisely control the movement of its arms using a technology developed by the company. This is one of the strongest selling points for human-controlled robots, as Jinki's founder claims that creating technology that can sense the required force for different types of interactions and controlling it electrically for a giant robot is extremely hard to do at this point in time.
"There are two reasons why we are focusing on humanoid robots: one is the appearance, which appeals to so many people," Dr. Kanaoka, the founder and president of Jinki Ittai, said. "Secondly, humanoid robots with two hands are the easiest to handle for humans."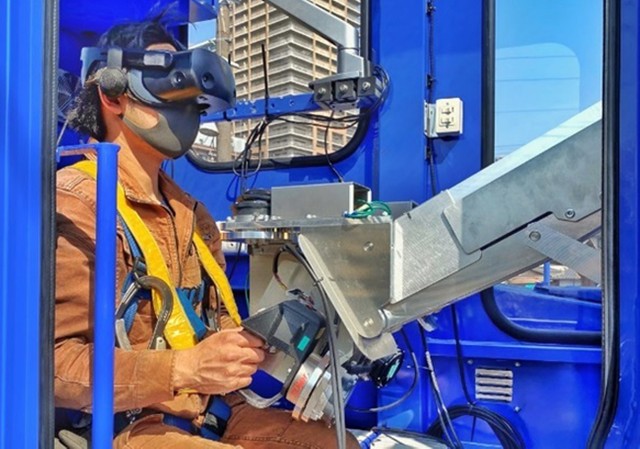 By synchronizing their movements with the robot, the human operator can use the machinery to perform complex tasks that require both power and finesse. Jinki's technology reportedly allows the operator to convey the amount of pressure it needs the robot to apply.
Dr. Kanaoka said that he came up with the idea for humanoid industrial robots after the great earthquake that devastated Japan in 2011. His country had always been viewed as a pioneer in terms of robotics, but when they needed this technology most, there was nothing that could help, so humans had to be put in dangerous situations.
"Many people think that robot technology wasn't advanced enough then, but the technology did exist," 51-year-old Kanaoka said. "The problem was that it had not been implemented in society. I decided to create something that we could use on a regular basis."
Jinki Ittai's humanoid heavy machinery is in the final stages of testing and is scheduled to hit the market sometime in 2024. JR West and Nippon Signal, two major railway operators in Japan have already placed orders for several units, so expect to see them in action soon.