The ancient village of Khunzakh, in Dagestan, is literally perched on the edge of a deep canyon, making it one of the most awe-inspiring human settlements in the world.
Before Khabib Nurmagomedov took the MMA world by storm and became the undisputed champion of the UFC Lightweight Division, most people hadn't even heard of Dagestan. Today, it's almost associated with the legendary mixed martial arts master, but the Russian autonomous republic is actually home to a number of wonders that the world has yet to discover. Today, we're featuring Khunzakh, a very old village with a very unique location – right on the edge of a 100-meter-deep canyon.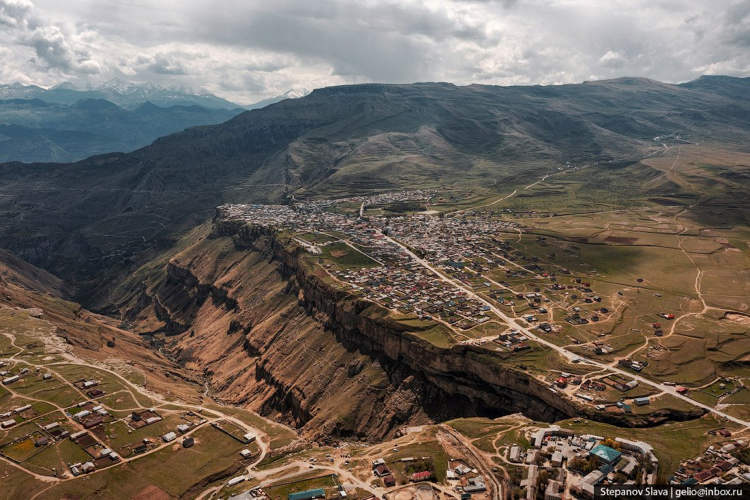 Photo: Slava Stepanov/Gelio Media
Located about 140 km from Makhachkala, the capital city of Dagestan, at an altitude of 2,000 meters above sea level, Khunzakh truly is a sight to behold. It rivals other, more famous settlements dangling on the edge of impressive-looking precipices, like the Spanish town of Ronda, or the French commune of Bozouls, but few people outside the Russian republic actually know it exists.
Khunzakh's stunning beauty was recently highlighted in the stunning drone photography of Slava Stepanov, a talented photographer who beautifully captured the jaw-dropping location of this Dagestani village in a series of pics that recently went viral on Russian social media.
Interestingly, there is more to Khunzakh than its location on the edge of Tsolotlinsky Canyon. The Dagestani village was once the capital of an ancient empire in the Caucasus. Then, it was the capital of the Avar Khanate for several hundred years, before being ravaged by Mongol hordes. At the beginning of the 19th century, Khunzakh was annexed by the Russian Empire.
For those bold enough to journey to Khunzakh, there is plenty to see and do. The 70-meter-high Tobot waterfall is the main attraction of the village, but there are also several viewing platforms overlooking Tsolotlinsky Canyon, as well as architectural remnants from Khunzakh's ancient days to discover.
For those looking for an adrenaline rush, there is a bungee jumping platform from where you can drop right into the canyon itself.
For more unique settlements, check out China's Bagua-shaped city, and Yanjin, the world's narrowest city.