The sand dunes behind Barril Beach on Portugal's southern Algarve Coast are home to over 200 rusty anchors abandoned there almost 60 years ago by the local tuna fishing community.
O Cemitério das Âncoras (The Anchor Cemetery) is one of the most iconic Sights of the Algarve Coast, yet not many people know its history and meaning. This isn't just a random place where old ships abandoned their anchors many years ago, but a memorial to a now-defunct trade going back hundreds of years. In 1964, the local community decided to commemorate the death of traditional Bluefin Tuna fishing by burying the anchors that once formed the backbone of the complex tuna traps known as armações. They've remained there ever since as a reminder of the effect of industrialization and over-fishing on the locals.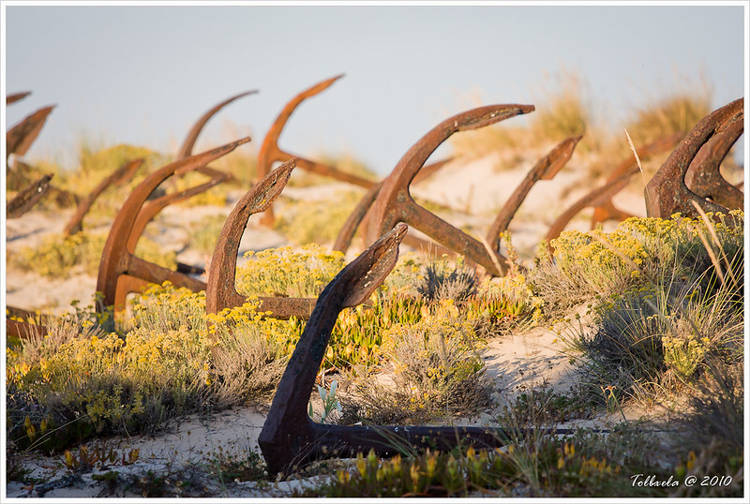 Photo: Tolbxela/Flickr
Consisting of vertical nets supported by stakes, buoys, cables, and anchors which created a series of channels, barriers and chambers, armações played a huge part in the traditional Bluefish Tuna trade of the Barril region. They were the backbone of the local fishing trade upon which more than 80 fishermen and their families depended. However, when industrial fishing became a thing, it quickly made this traditional fishing method obsolete.
By 1964, fishing with armações became unsustainable, and the locals abandoned their old installations, burying the hundreds of anchors than once supported their networks of nets behind Barril Beach, and the site became known as the Anchor Cemetery. The rusty anchors have remained there ever since, as a symbolic memorial for the defunct traditional tuna fishing.
In 2016,  Joana Madeira Rebelo, a master's student in conservation and restoration at Universidade Nova de Lisboa, documented the Anchor Cemetery of Barril Beach and found that it consisted of 248 anchors in various degrees of degradation. She warned that this now iconic site will cease to exist in a matter of decades, if measures to protect it are not taken.
Rebelo said that, while all anchors are heavily rusted, some are actually very fragile, and at risk of breaking apart, while others maintain their structural integrity and can be preserved. She identified chlorine as the main cause of the anchors' degradation, as it penetrates the anchors and causes the iron to detach.
The rise of industrial fishing has severely depleted tuna stocks, and today there are virtually no Bluefish Tuna in the waters along the Algarve coast. Like the anchors used in armações, the old fishing huts along the shore have been repurposed as tourist attractions.