The video tour of a Shell Gas Station toilet in the Philippines is making waves on the internet – it has gone viral with over 4 million views on YouTube and nearly 30,000 likes on Facebook. The video was made by Canadian model and TV personality Jason Godfrey; it shows the inside of a pristine toilet that's so amazing, you'll probably never want to leave it!
The gas station, located in Tagbilaran City, Bohol, is primarily meant to attract travelers and tourists. In addition to sparkling clean toilets, the restroom also has a very homey ambiance, with lovely paintings adorning the walls, bookshelves that stock reading material to peruse while using the loo, furnished wood and other beautiful decorations. It's unlike any public toilet I've ever been too, that's for sure.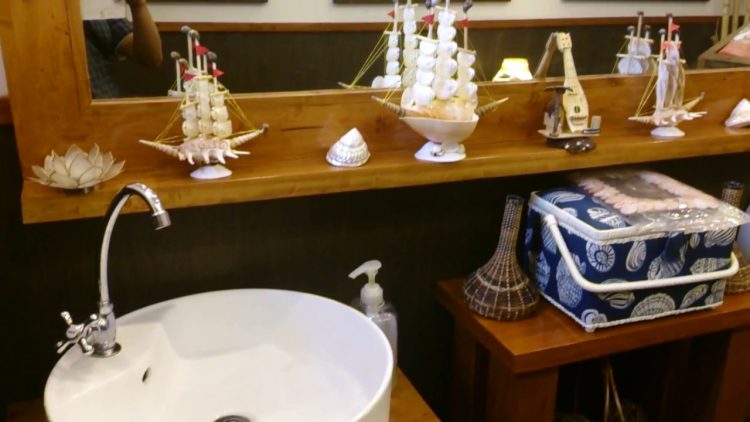 Photo: YouTube screengrab
However, as unique as it may seem, it's apparently not the only one of its kind.  According to Rex G. Carampatan, the owner of Amare Shell Service Station in Cebu City, there is tremendous competition in the Philippines to provide the best price and value added services, including toilet facilities. So in April 2011, he decided to do something completely different with a gas station that he took over in the City of Cebu. He spent three months renovating it and adding facilities that "attract and give a different experience to guests".
"If we become creative, we can actually see opportunities in other industries like tourism, where Cebu is rich," Rex explained. Since the lack of clean public restrooms is a common problem in the city, he figured that he could attract tourists by simply providing a clean and inviting public toilet.
The gas station in Cebu also has a function room that can accommodate 20 people, and is equipped with a projector and WiFi service. And there's a coffee lounge too, with locally made furniture and a library where people can rest while waiting for their vehicles during an oil-change. Customers are treated like special guests, which is highly unusual at a gas station.
"We serve welcome drinks to truck drivers and v-hire drivers so they can cool off from the heat," said Rex. "I think gasoline stations should be more than just a place where you stop for gas. It should be a place where people stop for comfort, especially tourists who have a long ride ahead of them. It can also be an avenue to promote our local products like furniture."
"We are the first among Shell operators in the country that's offering these perks to customers and we hope to inspire others to do the same because it could help the tourism industry of Cebu," he added. And true to his word, Rex introduced the amazing restroom concept at other Amare Stations across Philippines – including the one in Bohol that's gone viral.
It turns out that Godfrey isn't the first person to introduce the beautiful Amare restroom to the internet. In 2012, 'Heritage Interpreter' Ka Bino Guerrero posted a photograph of himself lying on the floor of the restroom in Bohol. "The restroom is so clean that I did this," he wrote. But Godfrey's video has sparked a huge discussion online, with people sharing photos of other awesome Amare gas station toilets across the nation.
Sources: Boholic, Ka Bino Guerrero, Inquirer