From cat cafes to toilet cafes and even cafes dedicated to female thighs, themed cafes are all the rage these days. Usually, entrepreneurs go for funny or exciting themes to attract as many people as possible, but one cafe in Thailand is based on the most morbid theme of all – death.
The Kid-Mai Death Cafe looks more like the scene of a funeral than a place you'd want to hang out with your friends. Black is the dominant color, but that's probably the least morbid thing about this establishment. Funeral wreaths are used as floral decorations, items on the menu have names like "ageing", "painful", "illness", and "death" and are displayed as funeral photos at the bar, and there's even a coffin that visitors can lie down in to get a small discount.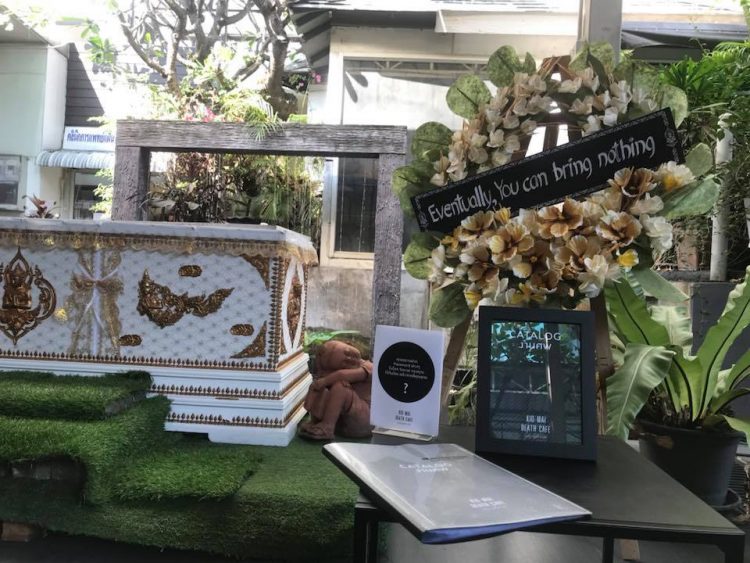 Photo: Kid Mai Death Cafe
But that's not all. Scattered through Kid-Mai Death Cafe are a variety of inspirational/morbid signs like "Are you ready if tonight you would just sleep and never wakes up again?" or "Eventually, you can bring nothing", which I assume is Google Translate for "In the end, you can't take anything with you". If you're in a writing mood, you can grab a piece of paper and a pen and write your own will.
Why go through the trouble of opening a death-themed cafe? Well, the people behind Kid-Mai prefer the term "death awareness cafe". Their main goal is to make people accept their mortality and inspire them to enjoy every moment of their life, because they never know when it's going to end.
To become more comfortable with the idea of death, patrons can even lie down in a life-size coffin. If they can handle sraying in the coffin with the lid on for at least  three minutes, visitors get a 20 bhat discount on their order. It's basically a symbolic discount, but I guess some people need all the motivation they can get.
If Kid Mai Death Cafe sounds like the kind of place you want to visit the next time you're in Bangkok, it is located beside Exim Bank, near the BTS station on Aree Soi 1.