Kayashima Station, in Neyagawa, a north-eastern suburb of Osaka, is one of the most unusual-looking train stations in all of Japan. Despite being located on an elevated platform, Kayashima has a giant broccoli-like tree pocking out through a rectangular hole in its roof.
The Big Kusu Tree of Kayashima, as the camphor tree is commonly known in Japan, is older than most records, but officials estimate that it has been around for at least 700 years. In 1910, when Kayashima train station was originally opened, the tree stood right next to it, offering travelers some much needed shelter on both sunny and rainy days. It didn't bother anyone for the next 60 years, but as Japan's population increased at an accelerated rate, overcrowding became a problem and local authorities decided that the train station needed to be expanded. Plans were approved in 1972, and the old camphor tree was going to be cut down.
The stories about how the ancient camphor tree of Kayashima cheated its fate vary, but they all border on the supernatural. Spoon & Tamago reports that the tree had long been associated with a local shrine and deity, and news of its removal caused an uproar in the community. Rumors about the tree being angry about the authorities' decision also coincided with a series of bizarre events. People reported seeing a white snake slithering through the branches of the tree, others claimed to see smoke rising up from the tree, and a worker who cut off one of the tree branches developed a fever later that day.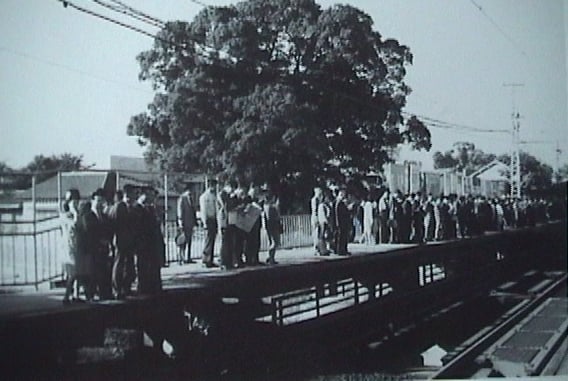 Photo: Amazon
The version posted by American expat July McAtee on her blog July's Culture Medium is a bit darker. One of her Japanese co-workers told her that "that tree's not there because Japanese people love nature or eco or want green or anything, Japanese people don't think that way."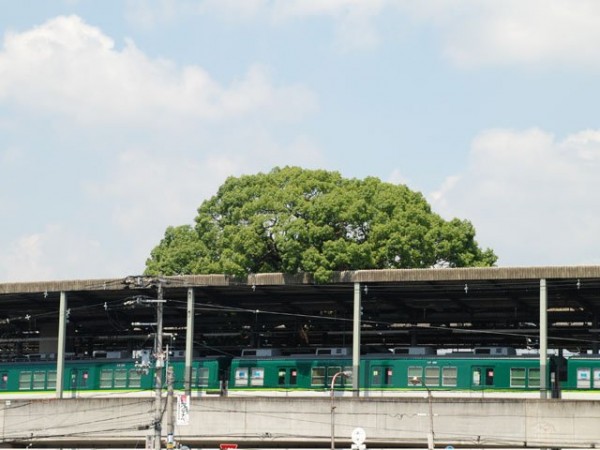 Photo: @Mullboyne/Twitter
"It's just fear. Fear and superstition," the man continued. "Twice when they tried to cut it down to build the station someone died. So they decided that it was a dangerous, powerful spirit, that the gods wanted it to live. They gave up and built the station around it. That's how Japanese people think."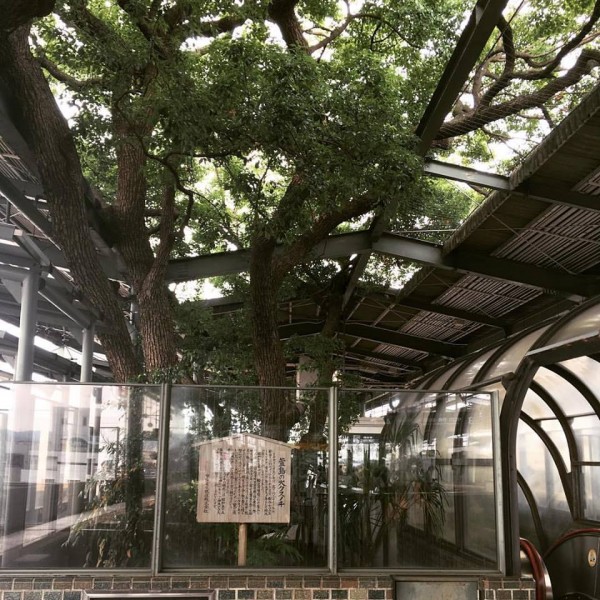 Photo: Ryusuke Shigeta/Facebook
Whatever happened over four decades ago, it was enough to convince local authorities to abandon their plans and expand Kayashima station around the camphor tree. Not only that, but by 1980, when the new elevated station was completed, the tree was converted into a sort of shrine, surrounded by a fence of sacred plaques and "wearing" a sacred shimenawa rope strung with shime strips, which apparently  symbolizes the presence of a deity and wards off its curse.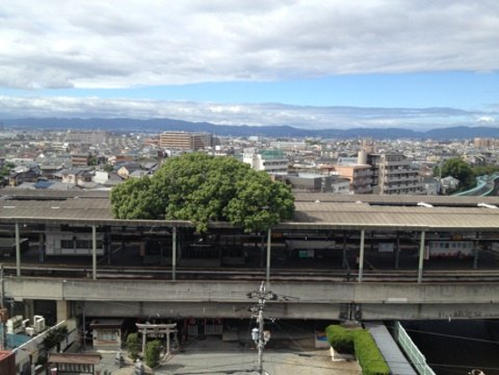 Photo: @Mullboyne/Twitter
So there you have it, this majestic camphor tree rising out of a sea of concrete is pretty much the result of human superstition. But whatever the reason, I'm glad it survived to become one of the most impressive sights in Osaka.