Located on top of a small mound, on a sliver of land stretching into the serene Yamdrok Lake is Rituo Temple, the home of just one solitary monk who spends his days chanting sutras and meditating.
Rituo, which means "the stone on the mountain" in Tibetan, is often referred to as Tibet's loneliest temple. It has a history that goes back more than 700 years, but it's considered one of the country's hidden gems, as few tourists venture out to visit it. That's because it's located in the middle of nowhere, on a thin patch of land stretching into Yamdrok, one of the three holy lakes of Tibet. But the few people who did visit it, tell stories about the peace and quiet that most of us only dream of, and about the surreal experience of taking in the amazing natural scenery from atop the solitary rock mound.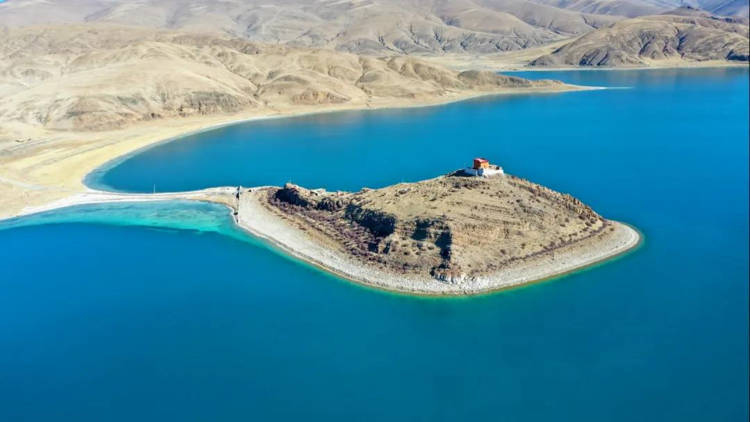 The name of the temple, "the stone on the mountain", was inspired by a centuries-old rock enshrined here, a relic that is said to have the power to cure all diseases.
Standing at the top of Rituo Temple, you can reportedly see Tibetan antelopes running freely and bar-headed geese swimming in the water, and as night falls, the sky full of stars is reflected on the lake, like a fairyland.
But perhaps the most amazing thing about Rituo Temple is the fact that it has just one inhabitant. His name is Ahwang Pincuo and he spends most of his days bringing water from down at the lake all the way to the temple, chanting sutras and meditating.
Ahwang is only the latest in a long line of solitary monks who have watched over Rituo Temple over the centuries, and when he dies, his place will be taken by someone else. You may be wondering what keeps a man from going crazy in a remote place like this, and in this case, it's the power of his faith.
There is no denying the natural beauty of this Tibetan wonder, but because of its remoteness, it doesn't get as many visitors as other, most accessible attractions.
Rituo Temple is just one of the many hidden gems we've come across in recent years. Another one that comes to mind is this fairytale castle that's actually a 4-star hotel in China.