If your idea of a good restaurant experience includes a nice conversation and interaction with the waiting staff, then Ichiran Ramen is probably not a place you want to visit. The popular Japanese chain is all about solo dining, taking extraordinary measures to ensure that patrons avoid human interaction as much as possible.
Manabu Yoshitomi, the founder of Ichiran Ramen, came up with the concept for his famous restaurants when he was just a high-school student, after seeing his female friends attempting to cover their mouths when eating ramen. After asking them about it, Yoshitomi discovered that their reluctance to being watched by other people as they slurped noodles was actually a huge barrier to them visiting ramen shops. This information inspired the young man to open a tonkotsu (pork bone) ramen restaurant that offered almost total privacy instead of human interaction.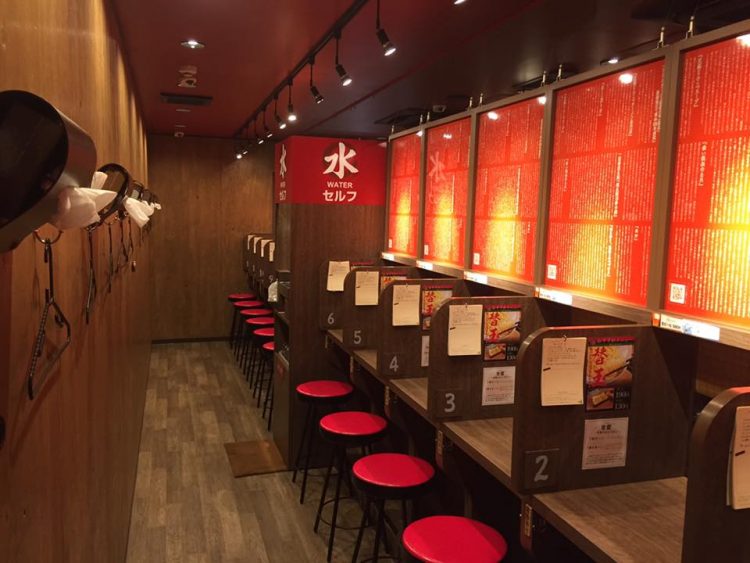 Upon entering a typical Japanese ramen shop, patrons are usually treated to a crowd of hungry eaters crowded together at tables or counters, and the clatter of bowls and noodle slurping. It's a distracting atmosphere, especially if you're not used to it, and Yoshitomi believes it prevents people from focusing on the delicious ramen. So you're not going to see much of that at Ichiran. As you enter one of the chain's dozens of restaurants across Japan, Hong Kong and most recently the United States, you are welcomed by a large ticket selling machine, instead of the usual hostess or server. This is where you select what type of ramen you want to eat and reserve your seat at one of the very private booths. After inserting the money into the machine, you are presented with a ticket, and you're ready to head to your seat.
Instead of open space tables, Ichiran Ramen features small booths separated by wooden panels. So even if you feel the need to peek at your neighbor while he's eating, you'll have to settle for hearing them slurp their noodles. In case you've made a huge mistake and brought a date to this place, you do have the option to retract the wooden separators so you can see and talk to each other. This definitely not a dinner date restaurant, though.
Once you reach your booth, you are presented with the option of customizing your bowl of ramen by circling various toppings and ingredients on a paper card. When you're done, all you have to do is press a call button and a server will pick up the order. The way they'll do that is also unique to Ichiran Ramen. After pressing the button, a small shutter opens in front of you, and a pair of human hands picks up the customization card. Minutes later, the shutter opens again, and the same hands place the bowl of ramen in front of you. So all the human interaction you have to deal with is seeing a stranger's hands and maybe their midsection for a few moments.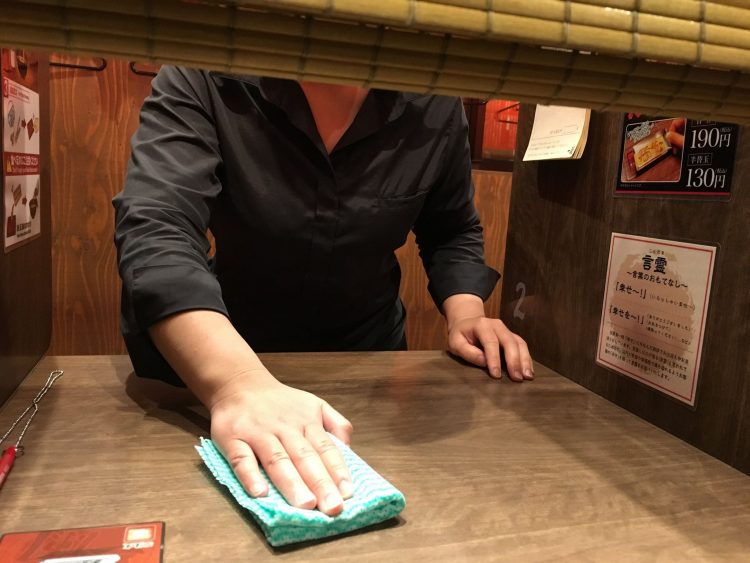 When you're done, you can either order seconds by placing your bowl on a rectangle in front of you, or simply leave the restaurant without having to wait for the server or even saying a simple 'good bye'.
Ichiran Ramen claims that its unique concept helps combat the stigma of eating alone at a restaurant, while also allowing people to focus on the taste of the food, without having to put up with any distractions.
The popular restaurant chain numbers 60 eateries in Japan and Hong Kong – all of which are open 24/7 – and has recently opened it's first U.S. branch, in Bushwick, New York.
Photos: Ichiran Ramen/Facebook
Sources: Gurunavi, Gaijin Pot, Timeline