The Didu Cafe in Moscow, is one of the most interesting-looking cafes in the world. Its walls are covered with over 140,000 colorful plasticine figurines made by visitors over the years. It's also home to the largest plasticine Mona Lisa on Earth.
The founder of Didu Cafe wanted to give patrons a chance to leave their mark on this place in a semi-permanent way, but also give them something to do while waiting for their food and drinks. Plasticine was the perfect solution. It's easy to work with, colorful and ends up looking good, or at least funny, even in the hands of someone with no artistic talents. So he placed boxes of plasticine on all the tables and started inviting guests to create small artworks out of it and decorate the walls and ceiling of the cafe with them. Today, Didu is home to over 140,000 plasticine artworks, from abstract designs and childish figurines, to popular symbols and even profane messages.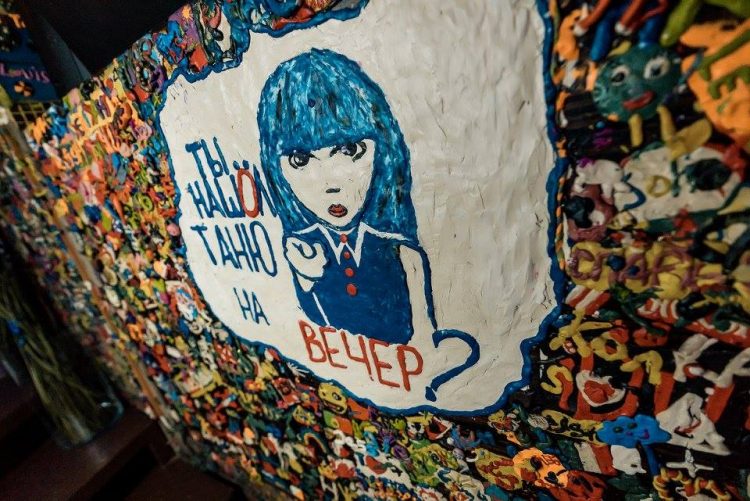 Photo: Didu Cafe/Facebook
Those who have visited Didu Cafe say that the walls, ceiling and even some of the furniture are almost completely covered with plasticine, so some of the older artworks have to be removed regularly to free up space for newer ones. But one artwork that will probably never be removed is the record-setting plasticine Mona Lisa behind the cafe's bar. The impressive work of art was also created by visitors of the cafe, under the careful guidance of Russian artist Nikas Safronov. The project lasted a whole month and required around 120 kilograms of plasticine. It measures 103 centimetres in width and 160 in height, and was declared the world's largest plasticine Mona Lisa by the Guinness Book of Records.
Didu Cafe is very popular with both locals and tourists. On weekdays, patrons can enjoy a variety of European dishes and drinks, and late on weekends it usually hosts lively dance parties. But the unusual decor is definitely the main draw.
One thing you should consider before booking a table at Didu the next time you're in Moscow is the smell. According to some reports, due to the dozens of kilograms of plasticine covering the walls and ceiling of this place, the whole place has a certain smell. SO if you didn't enjoy the smell of plasticine as a child, this may not be the place for you.
The unique looking cafe is reminiscent of popular tourist attractions in the US, like the colorful Bubble Gum Wall of Seattle, with its layers of old chewed-up bubble gum molded into various designs.
Sources: Resto-Klub, Timeout