The Dutch province of Utrecht is home to a bizarre-looking lake that seems to have been carved up with a giant knife, which sounds preposterous, but is actually fairly accurate.
Vinkeveense Plassen (Lakes of Vinkeveen) consists of a large body of water and bizarre strip-like sand-islands dotted with houses, wooden peers and trees. It's the shape of these long strips of land stretching far into the water that first catches your attention, especially when seeing the lake from above. They don't look like any lake islands I've ever seen, but then again, this is no ordinary lake. Vinkeveense Plassen may be a popular vacation area today, but it started out as as peat extracting site, and those long strips of land were used to dry the peat on.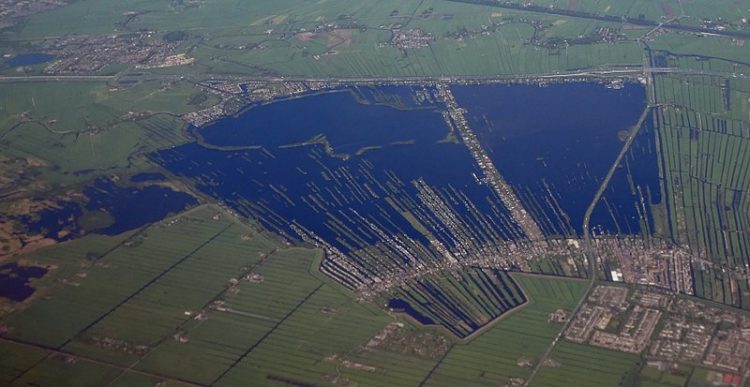 Photo: cavite/Wikipedia
Sphagnum peat has always been a valuable resource in the Netherlands, and between 1857 and 1975, Vinkeveense has been one of Utrecht main sources. From March to June, the sphagnum peat was dredged and left to dry on elongated islands. At the end of September, the completely dry peat was transported in baskets al over the Netherlands.
View this post on Instagram
With petroleum becoming the world's most popular fuel, peat extraction at Vinkeveense Plassen was stopped in the mid 1970s. Sand was brought from the Noordplas to reinforce the land strips on the lake, and also create land barriers to protect the shallow land masses.
Today, 80 percent of the land strips in Vinkeveense Plassen is owned by private individuals. Some own permanent homes here, others simply vacation here or rent their properties out to others. Unfortunately, many of the structures built here in the last four decades are illegal, and this has become a controversial topic in the Netherlands. Some of the locals are complaining about illegal homes being built and people disregarding community rules, like high speed boat racing on the lake.
Despite its issues, there's no denying the unique beauty and appeal of Vinkeveense Plassen.
View this post on Instagram
View this post on Instagram