Malaysian social media has been abuzz with the story of a young well-off couple who recently bought a Mercedes SUV as a present for their 5-year-old daughter to motivate her to go to school.
Earlier this month, Malaysian businesswoman Farhana Zahra posted a TikTok video asking her daughter, Fatima, what she wanted as a birthday present, to which the young girl answered that she wanted either a green Mercedes G Wagon or a BMW. In the same video, Farhana makes the girl promise that she will go to school if she gets what she wants and then they seal the deal with a pinky shake. Apparently, Farhana and her husband had been having problems convincing Fatima to go to school, because she hadn't turned five yet, and they used this opportunity to persuade her. Just like our parents used to do back in the day…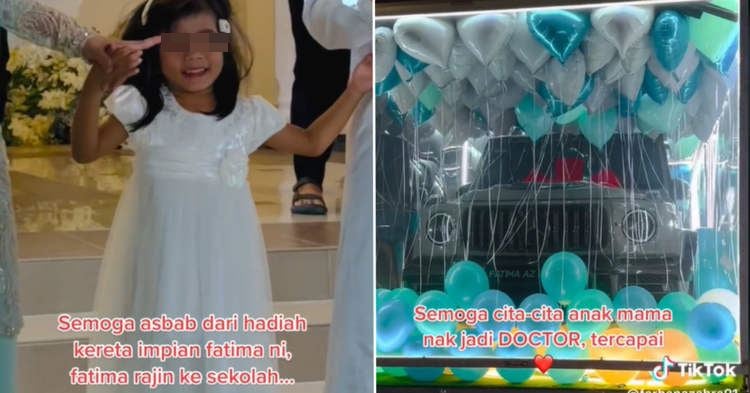 Photos: TikTok
In another TikTok video posted on April 10, a blindfolded Fatima can be seen being guided by her parents to her surprise birthday gift, which, turns out to be just what she had asked for, a greenish G Wagon in a transparent gift box. In the captions, the girl's mother wrote that she was so excited about the car that she couldn't stop holding the keys. How sweet is that!
In the 21-second video, Farhana Zahra explained that she and her husband decided to get Fatima exactly what she wanted to motivate her to go to school and fulfill her dream of becoming a doctor. The car is basically meant to be a driving force for her ambition.
@farhanazahra91Happy birthday Nur Fatima Az zahra yang ke 5 ❤️❤️❤️ happy dia dapat G Wagon yang dia nak, sampai dia asyik mintak nak pegang kunci je hahaha
Reactions to the TikTok videos were mixed, with some congratulating Fatima and telling her how lucky she was, and others criticizing the parents for spoiling the young girl with gifts she can't even use or understand.