Unless you've been hiding under a rock for the past week, you've probably seen one of the many videos of an adorable cocker spaniel with amazing eyes doing the rounds on social media. Her name is Winnie, and at only three-months-old she had already won hearts of millions around the world.
With over 211,000 followers on Instagram alone, it's fair to say that Winnie the cocker spaniel is a true social media sensation, and it's all thanks to her gorgeous eyes, of which people just seem to get enough of. Winnie's gaze had been drawing attention ever since she was born, in October of 2019, but it really catapulted her to star status five days ago, when her owners posted a particularly adorable photo of her on her Instagram account and tagged it "I can read your mind… you think I'm adorable?" The beautiful pup has been conquering hearts ever since.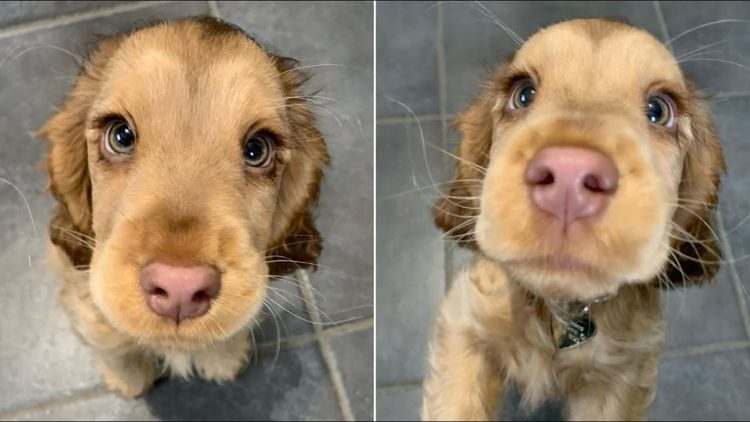 Photo: Winnie_thecocker/Instagram
And if you're one of those people who think Winnie's nothing special, and that she owes her popularity to one lucky photo, or to digital enhancing software, check out the cocker spaniel's TikTok page, where she already has over 140,000 followers and 2.5 million likes. You'll see that her eyes are just that pretty in real life.
Cuteness comes naturally to most puppies, but there is no denying that Winnie's face, and especially her eyes are something special. Some of her die-hard fans have compared her to a real-life canine Disney princess, while others have been showering her with compliments.
"Winnie is the prettiest dog I've ever seen," one Instagram user wrote. "I've not seen cockers with the hazel eyes, absolutely adorable."
"This dog doesn't even look real??! Looks like a Disney character," another person posted.
It's important to note that Winnie is still just a puppy, and it will be interesting to see if she retains her mesmerizing gaze as she matures, but right now she is definitely the most popular canine on the Internet.