A young dog believed to have been abandoned in the Nevada Desert as a puppy was recently rescued after spending at least six months as part of a coyote pack.
The people of Inspirada, a suburban neighborhood of Henderson, Nevada are used to seeing packs of coyotes running through the streets at night, but for the past couple of months, many of them have been reporting something strange. Apparently, a white dog was running with a pack of these wild predators, scavenging for food, playing in the moonlight and running away as soon as someone tried to approach him. Some called him the Coyote Dog, but he became more famous as Ghost, both for his white coat and his ability to disappear as soon as someone tried to catch him.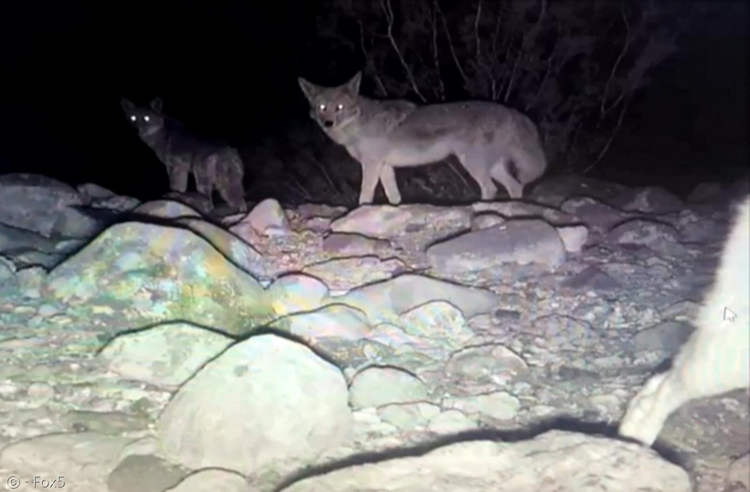 Reports of Ghost in the company of wild coyotes date back at least six months, and animal experts believe that he was abandoned in the desert as a puppy and then somehow accepted by the coyotes as one of their own. Video footage from within Inspirada and the trails around the Nevada neighborhood show the wild dog running with a number of coyotes, and some believe that he was not only part of the pack, but its leader.
"It seems like he may have been put out there between seven and eight months and somehow or another, the coyotes just accepted him," Susan McMullen, of the Southern Nevada Trapping Team, told KSNB Local 4.
As unlikely as a dog running with wild coyotes may be, it wasn't considered a problem until people noticed he had developed a limp. There were concerns that the coyotes could turn on Ghost because of his weakness, so locals contacted a trapping company to attempt a rescue. This was trickier than it sounds because the dog lived up to his nickname.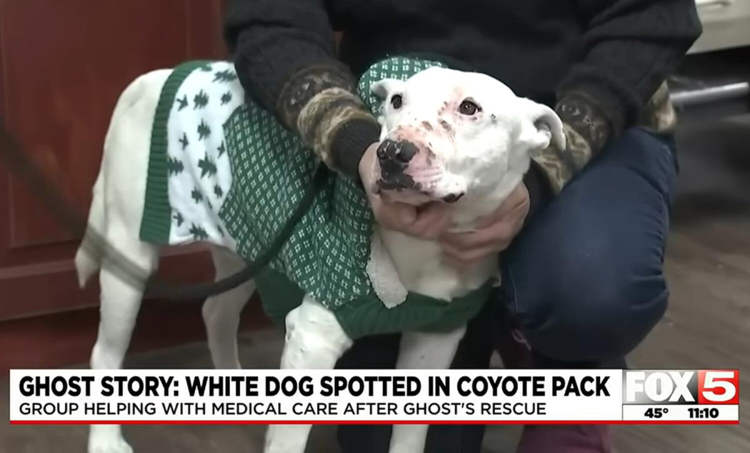 Neighbors shared maps of the paths Ghost would take, and the trappers tracked Ghost's movements for about two weeks to pinpoint where he was hanging out the most. They ended up setting a trap and waiting for about 6 hours for the dog to finally take the bait.
Despite living with wild coyotes for at least half a year, Ghost turned out to be "the sweetest, most loving dog". He apparently longed for interaction, as he loved being petted and held by his rescuers, and seemed to harbor no resentment toward humans.
The now-famous Coyote Dog is currently being treated for a number of health issues, including a broken toe that needs to be amputated, skin and ear infections, as well as stones in his stomach believed to have been ingested out of extreme hunger.
"He's got some rocks in his belly because he was probably hungry and ate some rocks, so we are just going to watch those and hopefully those will pass so we don't have to have yet another surgery," the dog's rescuers said.
Ghost is still adapting to his new life – he paces and pants a lot, he doesn't sleep at night – but his rescuers believe that he will soon make a great pet and they hope a family will give him a chance to prove it.
"I believe he is going to be the best dog because they are the most grateful, the ones that are rescued… they feel it," Timi Zondiros, one of Ghost's rescuers, said.