Betsy, a 3-year-old cow that escaped six months ago, during the annual rodeo in Anchorage, Alaska, has been roaming the outskirts of the city ever since, despite her owner's best efforts to capture her.
Betsy the cow slipped out of her pen amid the bustle of the annual Anchorage rodeo last year, and headed right for Far North Bicentennial Park, a 4,000-acre forest on the outskirts of the Alaskan city. Cowboys saddled their horses and went after Betsy as soon as they noticed she was gone, but it was too late. She made it to the forest and she's been enjoying her freedom for the last six months, despite her owner's attempts to catch her.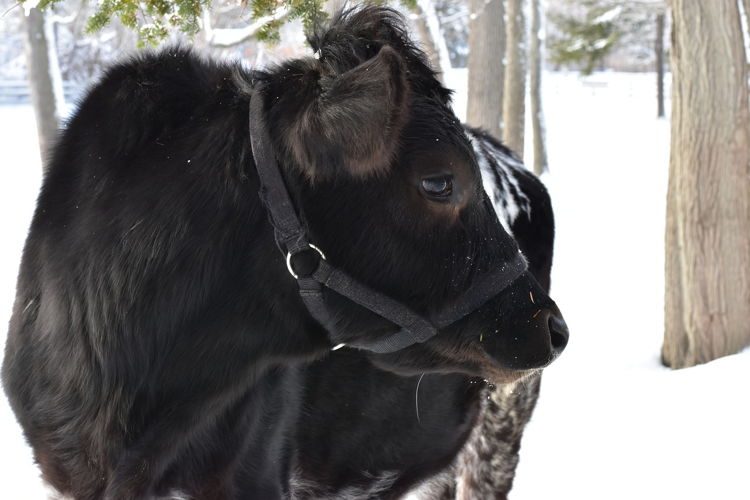 Photo: jvalley678/Pixabay
"I'm just totally exhausted from looking day in and day out," Frank Koloski, Betsy's owner, told The Washington Post. "She's a go-getter, that's for sure."
The runaway cow is as slippery as a fish too. Koloski says that he's received dozens of tips and reports from joggers, bikers, and cross-country skiers who spotted Betsy on the snow-covered trails of Far North Bicentennial Park, and police often call him after getting reports of a cow on the loose from communities around Anchorage. He always drives to the spots where Betsy was last seen, but all he's been able to find so far is her hoof prints in the snow.
"I go out there, I'm standing in her tracks and she's nowhere to be found," the 47-year-old cattle owner complained.
Reports of a cow roaming the trails of Far North Bicentennial Park started circulating around Anchorage in the fall, with some of those who saw Betsy asking if they had been hallucinating. After all, the Alaskan forest isn't the type of place where you'd expect to come face to face with a bovine.
"Almost got run over by a cow last night on moose meadow," a November post in the Anchorage Fat BikeFacebook group read. "As in, cattle, not a bear or a moose. … Am I crazy or has anyone else had a sighting in the area?"
Up until last week, when Betsy's owner took to social media to ask for help locating and retrieving his cow, reports of a cow roaming through the forest on the outskirts of Anchorage were met with skepticism, and those who claimed to have seen her were often told that they had been hallucinating. But now it's official. There is a cow wandering through Far North Bicentennial Park, and she's been there for over six months.
Frank Koloski told The Post that people in and around Anchorage have been "phenomenal with the support and with getting the word out to help bring my Betsy home," but added that most of them don't have the necessary cowboy experience required to capture a rodeo cow.
Attempts to lure Betsy with food have been unsuccessful, but her owner has a better plan. All he needs to do is figure out what area of the park his rodeo cow is hanging out in. He'll bring several other cows to that location, Betsy will rush to them, and he and his cowboy friends will rope her. But that's virtually impossible to do if he doesn't even know her approximate location.
Because the natural park is so large, Betsy's owner can't do much more than hang around and wait for someone else to spot her. Then, he can execute his plan and pray that it works. In the meantime, Betsy continues to enjoy her freedom. She's accustomed to the harsh Alaskan winter and reportedly has plenty of hay bales, patches of grass and mineral salt blocks to feed on. And because the forest is within city limits, the risk of her being attacked by wolves or bears is minimal.
Cows have gained a reputation as escape artists in the last couple of years. In 2018, we reported about a cow in Poland that escaped a farm and joined a pack of wild buffalo, as well as about another brave bovine that escaped on her way to the slaughterhouse and hid in a forest for over six weeks.