An African flamingo that famously escaped Wichita's Sedgwick County Zoo in 2005 has been on the run ever since. The freedom-loving bird was recently spotted hanging out with a flock of seagulls, in Lavaca Bay, Texas, 700 miles from the zoo it once called home.
The runaway bird is known as 'No. 492' because of the number on a plastic band still attached to its leg. Its legendary escape was due to an error by zoo staff who thought his flight wings hadn't fully developed, so they didn't bother cutting them. One night, the flamingo took advantage of some strong storm winds and escaped the zoo before staff even got the chance to determine its sex. The long-legged bird has been enjoying its freedom ever since, as the zoo never attempted to recapture it. That would be difficult to do anyway, both because sightings of No. 492 have been rare in the last 14 years, and because it was born in the wild and is wary of approaching humans.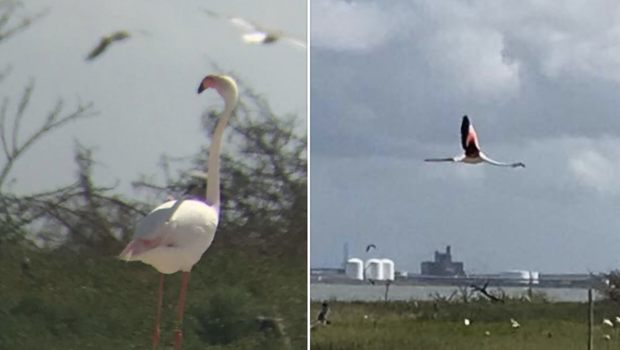 Photo: Texas Parks and Wildlife/Facebook
No. 492 was recently spotted in Lavaca Bay, Texas, last week, by members of a Texas Parks and Wildlife Department crew, who saw it sticking out in a flock of seagulls. "I'm no expert, but I'm pretty sure flamingos aren't native to Texas," one crew member told The New York Times.
The runaway flamingo has been a rare sight since it made its legendary escape. A few sighting of it have been recorded in Wisconsin, Texas and Louisiana, sometimes with a flamingo friend or mate wearing a leg band reading "HDNT". I guess flamingo zoo escapees have to stick together.
"It's a testament to the adaptability of these animals," Sedgwick County Zoo curator of birds, Scott Newland, said about No. 492. But even though, he's glad to see the bird thrive, the curator doesn't really enjoy talking about it. After all, he was part of the zoo staff that let it escape.
"It is a black eye, to be honest. It was basically an error. We are not fond of this story," he told the Kansas City Star in 2013. "The good thing is that if this is what gets people out watching wildlife, there is no harm in that."
No. 492 is around 22 years old, so he should enjoy his freedom for many years to come. According to Newland, flamingos can live to be 50 years old.