The staff at a dog shelter in Downey, California, recently had to go through one of the most heartbreaking experiences of their lives – watching a rescued dog get all excited after seeing its family walk through the door, only to learn that they weren't there to take the pooch home, but pick out another dog.
Zuzu, a 2-year-old German Shepherd mix had been brought to the Downey Animal Care Center after being picked up from someone's yard. Shelter staff thought she was a stray, but they showed her the same love and affection they do all their canine residents. Still, despite their best efforts, they could tell that Zuzu was miserable, for some reason. "She is a friendly girl but I sensed sadness and confusion," volunteer Desi Lara said. "Most dogs zoom around the yard. She treaded softly, nervous to look around." But her attitude suddenly changed one day, when a family came through the gates. As they walked by her enclosure, Zuzu was wagging her tail, barking and looked overjoyed. At the same time, these people began to pet her and talk to her through the fence. You could tell they knew each other very well.
"With her fast wagging tail seeing her owners Zuzu lit up like a Christmas Tree. She looked like the happiest dog. Yeah, she's going home," Desi Lara wrote on Facebook. "But no. Talking to her owners they told me they were not here to reclaim her, they were getting another dog."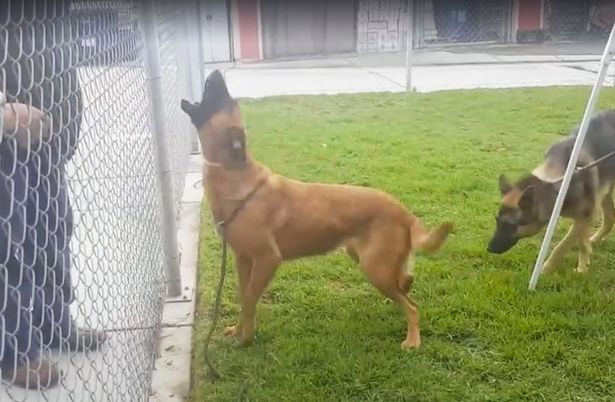 After talking with the family, Lara learned that Zuzu's father, who had been living with her and the human family, had passed away recently, and she hadn't taken it very well. The family was sick of her "crying" and being "sad" all the time, so when Zuzu jumped into a neighbor's yard one day, they didn't even bother to get her back. "She wasn't a happy dog anymore," Lara recalled them saying. "Their solutions for her unhappiness was just leaving her here! And go get another dog."
It's unclear if the family actually picked out a new dog at the shelter, or if they were even allowed to look for one there, after the staff heard their pathetic reason for abandoning Zuzu.
Desi Lara filmed the heartbreaking reunion and posted the video on Facebook. It quickly went viral, racking up over 600,000 views, and as you can imagine, people had some harsh things to say about her former family.
"What a**holes!!! They shouldn't be allowed to adopt another dog!!! How heartless!!! POS SCUM!!!", one person commented.
"Lousy excuses for human beings. All she needed was to be brought into the house and loved," someone else added.
As for Zuzu, she is still available for adoption, and Desi Lara promises that the staff at Downey Animal Care Center will do everything they can to "give her a new life, a wonderful life." Feel free to check out her adoption profile on Shelter.me.