When Sasha Pesic rescued a litter of abandoned puppies in 2008, he had no idea that in little over a decade he would have rescued about 1,200 canines and still be caring for over 750 of them.
Sasha Pesic became known to the world in 2015, when a video of him acrobatically dropping down to the foot of a bridge to rescue a stranded puppy went viral on social media, getting over 63 million views on Facebook alone. No one outside of Serbia, or more precisely outside his home city of Nis, really knew who he was, or that he had hundreds of dogs in his care. Ever since rescuing a few abandoned puppies more than a decade ago, Pesic has dedicated his life to taking in abandoned dogs and looking after them. He has taken around 1,200 canines off the streets of Nis, over 400 of which have been adopted by people all over the world, but he still has over 750 of them in his care, and he needs all the help he can get.
Photo: Sasha Pesic/Facebook
Just the food for 750 dogs costs Sasha around 10,000 euros ($11,150) a month, not to mention other thousands in veterinary care, paid workers and the maintenance of his temporary shelter. He gets by on donations, most of them from people outside of Serbia, because his countrymen apparently aren't exactly tripping over each other to help. In fact, many are making things even harder by abandoning dogs near his shelter, knowing he doesn't have the heart to let them starve.
Photo: Sasha Pesic/Facebook
"People usually come to leave behind unwanted dogs, they rarely come to pet one of the dogs at the shelter, Pesic told Niske Vesti. They leave close to the asylum, during the night, so not to be seen. Dogs are living beings and I think they should be treated better, but that's the way it is here."
"I have asked for help many times and it is always needed, but simply our people are not hearing about what I do," Pesic added.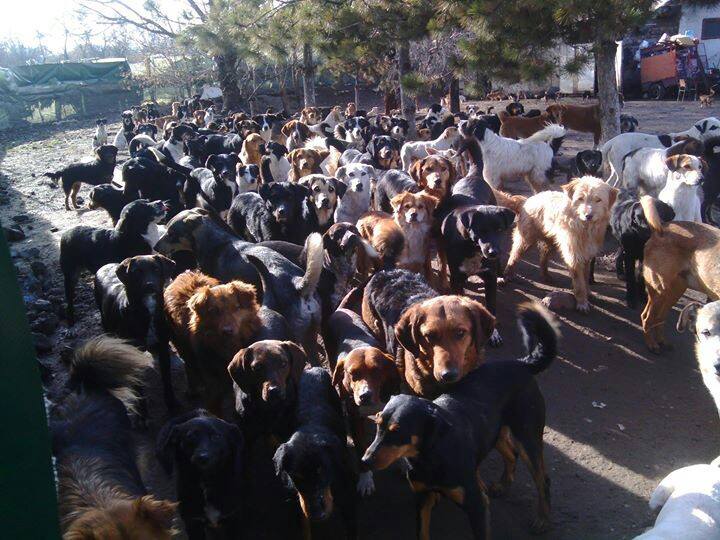 Photo: Sasha Pesic/Facebook
Luckily, the animal lover has found support outside of Serbia. Many like-minded people from around the world are donating money to him every month, as well as helping him find forever homes for his beloved canines. Through a campaign on Patreon, Sasha is trying to secure enough monthly donations to support his special shelter, and even though he's not yet met his goal, he is on the right track.
Photo: Sasha Pesic/Facebook
Sasha founded his canine shelter in an old equestrian club, on city land, but instead of getting help from the local authorities in Nis, all he got were eviction threats. Luckily, a petition signed by thousands of people got authorities to back off, and even though the matter is not permanently solved, Pesic is grateful that his dogs still have a home. The shelter is overcrowded, as Sasha himself admits, but for now, he does not have a better alternative.
Photo: Sasha Pesic/Facebook
A lot of people have problems taking care of a single dog, so looking after 750 of them seems almost unfathomable. Still, Sasha Pesic says he knows every one of his dogs by name and loves nothing more than to take care of them and make them forget about the trauma of being abandoned and living on the street.
"They recover quickly, they need only to be given a little love, food and care and soon they become tame and cheerful again," Pesic says. "I wish they had better conditions, better food, better boxes, that we could build a bigger shelter that would meet all standards and finally be legal."
Sasha Pesic is still a long way from realizing his dream, but after a decade-long struggle he has the admiration of thousands around the world, and most importantly the gratitude and love of the canines he has rescued during that time.
To learn more about Sasha Pesic and his dogs, or to donate to his cause, check out Sasha's Shelter.
Sasha Pesic is just one of the many amazing dog rescuers we've featured over the years. For more such incredible stories, read about "The Dog Father" in India, Mexico's "Dog Man", or the Chinese "Guardian of Dogs".