After making a daring escape while being loaded on a truck headed for the slaughterhouse, a cow in Nysa, Poland, swam to an uninhabited island on a nearby lake and has been living there ever since.
Cows are among the most obedient of domestic animals, but when their survival instincts kick in, they can pull of some truly extraordinary things. Just last month, we wrote another cow in Poland that escaped her farm and went on to join a heard of bison at the edge of the primeval Bialowieza Forest, and earlier this month we featured Hermien, a plucky cow from the Netherlands, that escaped just as her owner was sending her to the slaughterhouse and hid in the woods for over six weeks. Now, we're heading back to Poland, where another brave cow is making news headlines for her will to survive.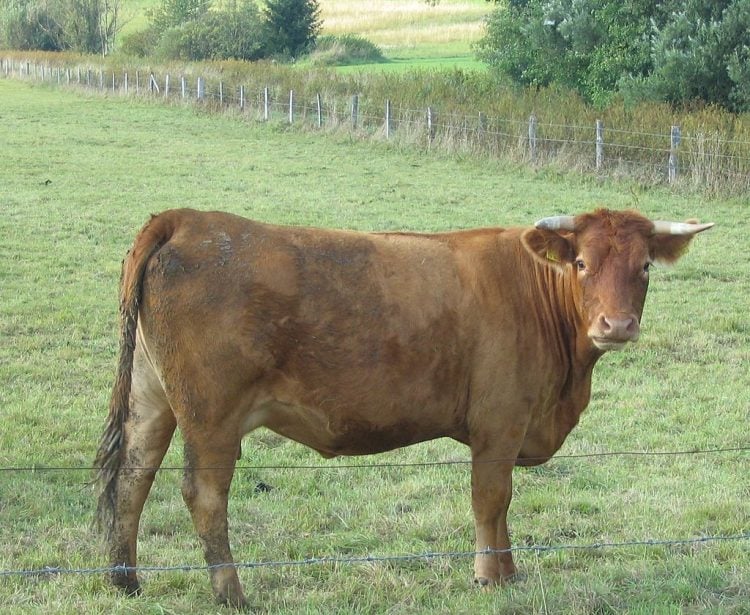 Photo: Markus Brown/Wikimedia Commons
According to Polish news website Wiadomosci, the daring escape took place lat least month, just as slaughterhouse employees were about to load the cow on to their truck. Her owner, a Nysa farmer known only as Mr. Lukasz, had apparently advised the men to use tranquilliser on the animal, but they refused, saying it wasn't necessary. They were wrong. As soon as the cow saw the truck, she started thrashing about, breaking a farmworker's arm and leaving him with bruised ribs, before jumping over the metal fence and running across a field to the nearby Nyskie lake.
Witnesses say they saw the cow plunge into the water and swimming all the way to a small uninhabited island. Mr. Lukasz and his farmhands spent a week trying to catch the cow, even calling the local firefighter department for assistance, but every time they got within 70 meters of the animal, she just swam away to another peninsula. A vet called to shoot the cow with a tranquilliser gun said he had run out of gas cartridges and that they would arrive in a few days.
The cow's owner told reporters that he is also considering calling in hunters to shoot the animal, but he is reluctant to do so just yet because then he would not be able to sell her to the abattoir. For now, he's waiting on the vet to receive his gas cartridges and delivering food to the cow by boat, to make sure she survives.
Photo: Nyskie Lake (Mzopw/Wikimedia Commons)
Luckily for the rebel cow, her cause has been taken up by Polish politician and former singer Pawel Kukiz, who posted a photo of the animal on Facebook, calling her a 'hero cow' and praising her determination and will to survive.
"She escaped heroically and infiltrated the island in the middle of the lake, where it remains today," Kukiz said, according to Polish news magazine Wprost. "She did not succumb to firefighters who wanted to transport her by boat and she was still on the battlefield."
"I am not a vegetarian, but fortitude and the will to fight for this cow's life is invaluable. Therefore, I decided to do everything to cause the cow to be delivered to a safe place and in the second stage, as a reward for her attitude, give her a guarantee of a long-term retirement and natural death," the impressed politician added.
For now, the cow is enjoying her freedom on her island home, but her future definitely looks brighter than it did on the day of her escape.