Boji, a stray dog from Istanbul, Turkey has become so familiar with the local public transportation system that he casually uses several means of transportation (bus, subway, train, and even the ferry) every day.
Dogs using public transportation is not unheard of. Back in 2011, we wrote about Moscow's impressive subway-riding dogs, and three years ago we featured Eclipse, Seattle's famous bus-riding canine. But in both cases, the animals used a specific means of transportation that they had become familiarized with. Boji the stray, on the other hand, is comfortable using several types of public transportation every day, including the ferry, to get around the ancient Turkish city and even travel between continents…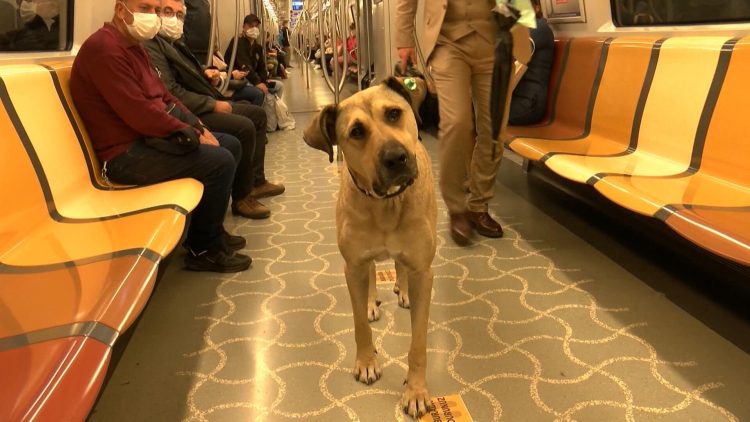 It's unclear when Boji, a crossbreed of Sivas Kangal and shepherd dog, figured out that using public transportation was much more convenient than walking for hours, but he has been doing it for long enough that people noticed. Photos and videos of him riding the bus, the metro, trains, and even the ferry have been going viral on social media for months now, turning the canine into a social media sensation.
View this post on Instagram
Boji's popularity has reached such record levels that the local municipality has opened social media accounts for him on Twitter, Instagram, and other popular social networks, as a way of connecting to the city's human inhabitants. Some have slammed the initiative as a way to leverage Boji's popularity for political gains, while others love to see more of the canine online.
View this post on Instagram
Thanks to a tracker that can only be checked by the municipal authorities, Boji mostly uses the T1 tram line, which runs from Kabataş to Bağcılar via the historical peninsula of Istanbul, while his second favorite means of transport is the M4 metro line, a 27-kilometer, 19-station rapid transit line.
View this post on Instagram
According to the information acquired by the microchip, Boji stops off at least 29 metro stations each day, with some of his trips reaching up to 30km on any given weekday. He will even cross the Bosphorus strait by ferry in order to travel between the continents of Europe and Asia.
View this post on Instagram
The smart pooch seems to know all the basic rules of public transport, giving way to the disembarking passengers and only entering the vehicle after all the humans have disembarked. When he needs to use the metro, Boji rides the escalator or takes the elevator underground, and when he rides the ferry, he hangs out on the terrace if it's warm and goes inside if it's cold or raining.
View this post on Instagram
Seeing Boji sitting on a bus seat or sprawling over a bench as people snap photos and videos of him, you can tell that the canine is already used to his celebrity status. And people love nothing more than to bump into the dog during their commute, it brightens up their day.
View this post on Instagram
"You take the train and, suddenly, you see Boji. And look at him. He lies, just like this. You just smile and catch the moment, really. This is what Boji evokes for Istanbulites. He also reminds us that we can still enjoy Istanbul as we rush about," Aylin Erol, of Metro Istanbul, told Reuters.