Het Brekkense Wiel, Dutch for "The Broken Wheel", is a unique waterside residential area and tourist attraction in the Netherlands.
Located between the Frisian Lakes and IJsselmeer, the largest lake in the Netherlands, the aptly-named Het Brekkense Wiel is a suburb made up of several properties on small plots of land resembling broken wheels and surrounded by water. Every building consists of several homes, each accessible both by car and by both, which makes this place very popular with water sports enthusiasts. Because of its unique layout and visually-impressive design – especially when seen from above – Het Brekkense Wiel is often considered an example of ingenious waterside urban planning.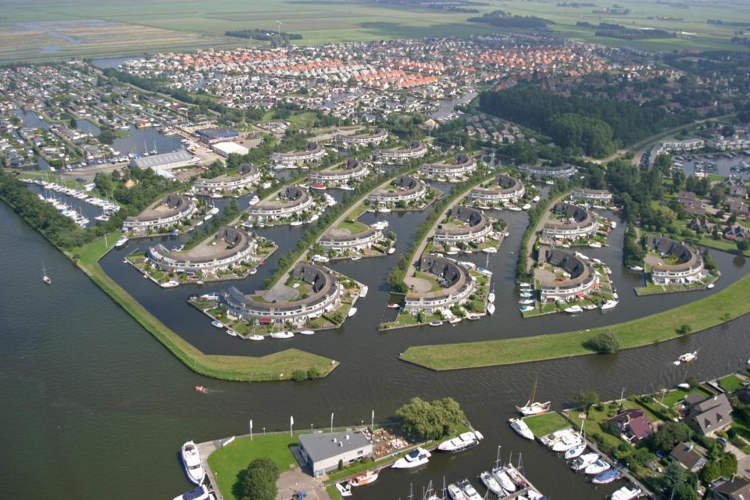 Photo: Aqua-State.nl
Located close the town of Lemmer, itself one of the Netherlands' premier water sport destinations, Het Brekkense Wiel is just one of several waterside residential developments in the area, but by far the most eyecatching. It covers an area of about 11 hectares and consists of around 230 homes.
Het Brekkense Wiel wasn't only designed to attract attention. Its dozens of broken wheels ensure that everyone has easy access to water, as well as at least one parking space for their car. This is one of the reasons why the development is very popular on the property market, with homes here selling for over 350,000 euros at the time of this writing.
The Brekkense Wiel project was completed in 1992 and quickly became popular among both locals, known as Lemsters, and tourists who still flock here during the summer months.
The Broken Wheel reminded us of another unique waterside development we covered a few years back. Vinkenveense Plassen is made up of strips of land stretching far into a lake.