Ukrainian-Russian art duo Asya Kozina and Dmitriy Kozin are taking paper craft to new heights with their elaborate and flamboyant wigs made entirely out of paper.
Inspired by Baroque and Rococo wigs, the talented couple and art duo create their own modern wigs out of pristine white paper. The unique choice of material only makes their creations stand out even more, so it's no wonder that their amazing headgear has been getting a lot of attention both within the art world but also on social media. Looking at some of their most recent creations it's really not that hard to see why people are so impressed with Asya and Dmitriy's work – it's really unlike anything you've ever seen before.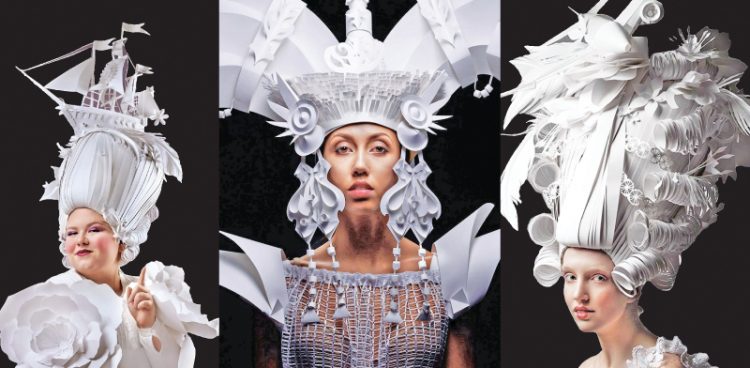 It all started about 12 years ago, when Asy Kozina created a series of miniature paper wigs that she exhibited in her home town of Cherkasy, in the Ukraine. It was very well received and five years later she followed up with a vernissage where models wore her paper wigs and dresses. She and her husband Dmitry, also an accomplished paper artist, have been developing paper wigs ever since, and today their work is known all over the world.
"Our creative process always begins with making sketches of our ideas, or even writing them down and discussing them together," Dmitriy Kozin told Arctic Paper magazine. "Then we research the subject and start the actual work. We may change something in the process, but in most cases, we know what we want and move towards our goal. It is great to be completely absorbed in the project and to work around the clock. Pizza is a given on those days."
While the design of the wigs may seem exaggerated sometimes, the two artists spend a lot of time doing research – reading library books, looking at pictures and illustrations, visiting museums – to better understand the Baroque and Rococo wigs of old. And to be honest, the flamboyant, over-the-top design of their wigs actually fits the theme of their historic inspiration.
"Baroque and Rococo wigs used to be adorned with symbols of luxury, sophistication and the romantic spirit of the time, such as model frigates, stuffed birds and exotic flowers," the two artists said.
You can check out more amazing paper wigs by Asya Kozina and Dmitriy Kozin on their official website and on their Instagram.