A museum in the German city of Wolfsburg recently removed a controversial art installation by English artist Damien Hirst after animal rights group PETA filed a complaint about it killing flies.
Flies are generally seen as annoying pests to be exterminated or at least kept at bay, but a controversial art installation featuring a fly-killing UV light has attracted the wrath of animal rights group PETA and sparked a heated debate about the rights of the flying insects. Titled "A Hundred Years (1990)", the art installation by award-winning artist and entrepreneur Damien Hirst was recently removed from Kunstmuseum Wolfsburg after PETA filed a complaint claiming that it infringed on Germany's Animal Welfare Act, which bans the killing or harming of animals without proper reason. Whether flies fall under that law or not is yet to be determined, but the decision has already sparked controversy in Germany.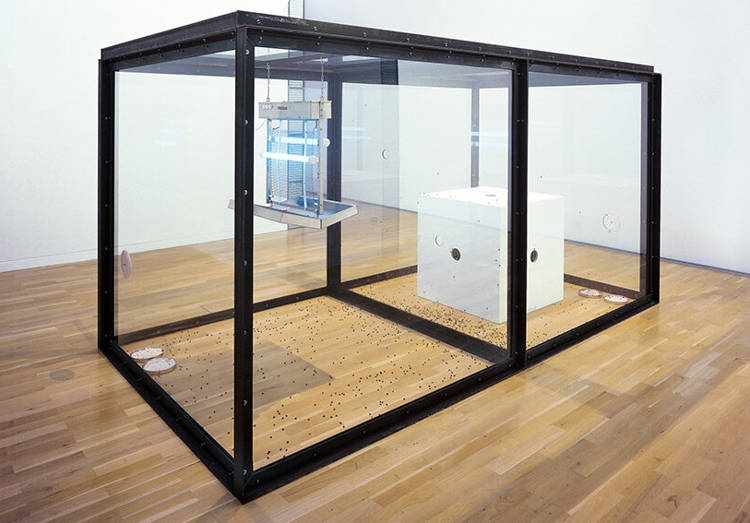 Photo: Kunstmuseum Wolfsburg
"Killing animals has nothing to do with art, it just shows the arrogance of people who literally will stop at nothing for their own interests," Peter Höffken, of PETA Germany, told Braunschweiger Zeitung.
Representatives of the museum, on the other hand, said that they didn't think flies were covered by the Animal Welfare Act, adding that they would ask the artist if he would agree to replace the real flies with artificial ones. Doing so, however, would most likely ruin the whole idea of the art installation.
Originally unveiled in 1990, "A Hundred Years" is a commentary on the fact that many flies die when exposed to public light. It consists of a transparent cube split into two areas – one where the flies hatch and another where a UV lamp is hanging from the ceiling. The flies are attracted by the light, and whenever they fly to it through a small hole between the two areas, they are burned to death. Hirst described the artwork as 'a life cycle in a box.'
Interestingly, a previous version of the controversial art installation featured a dead cow head that attracted the flies, but that was apparently considered too much…
Damien Hirst has long been known for incorporating dead animals in his provocative art pieces, with some sources estimating that he has featured nearly one million dead animals in his art, most of them insects.