Inakadate, a nondescript village of around 7,000 people, located in Japan's Aomori prefecture is considered the home of a rice field art form more elaborate than anywhere else in the world.
The story of Inakadate village as a world-renowned tourist destination began in the early 1990s, when local authorities realized that youths were moving to large urban centers in droves, and started brainstorming for ways of breathing new life into the village. One of the proposed ideas was an art form inspired by the local's traditional rice cultivation, done by hand for hundreds of years. Called Tanbo Art (rice field art), it involved the use of different-color rice varieties to turn local rice fields into giant canvases for intricate designs that revealed their beauty when viewed from above.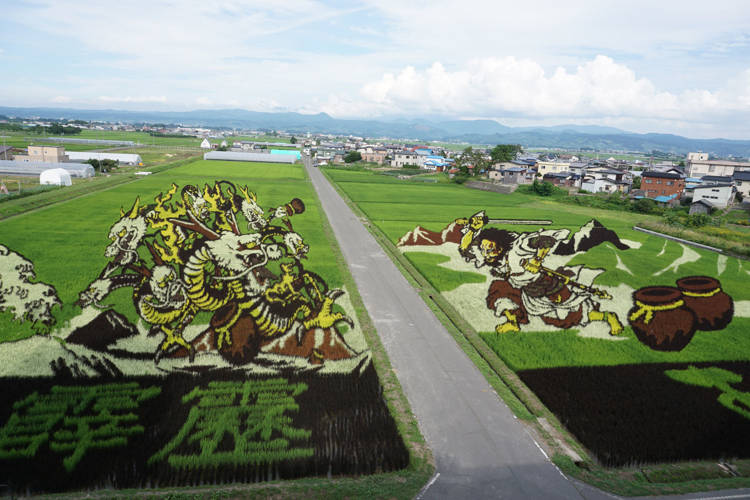 Photo: Aomori.com
The first rice field artwork was unveiled in 1993, when purple and yellow rice plants were used to create a detailed picture of Mt. Iwaki – the highest mountain in Aomori – along with easily legible characters. A viewing platform was set up somewhere above the rice field, from which people could admire the unique artwork in all its glory. The project was such a huge success that Inakadate authorities decided to turn it into a yearly event.
View this post on Instagram
To create the impressively massive rice field artworks, locals use a technique unique to Japan, which involved surveying the paddies, perspective drawing, and the manual plantation of various types of rice plants to create the desired visual effect. Tanbo art has come a long way in the last three decades, with designs gradually becoming larger and more intricate.
View this post on Instagram
Some of the most elaborate rice field artworks created in Inakadate have required the use of no less than 10 differently-colored rice plants. The laborious process starts in the spring months, and by early summer, the fruits of this labor become clearly visible. July and August are the best months to visit this famous Japanese village, if you want to admire its Tanbo creations.
View this post on Instagram
There are many locals who say that rice field art saved Inakadate, bringing in impressive numbers of tourists from all over the world, every year, and boosting the local economy. According to CoolJP, around 200,000 people flocked to Inakadate to see its unique artworks in 2006, and by 2016 that number had ballooned to around 340,000.
View this post on Instagram
The success of Inakadate village inspired other rice cultivating communities to borrow the Tanbo art concept, and today you can find this sort of impressive rice field artworks all across Japan. Still, the Aomori prefecture village remains the most famous, as the home of Tanbo art.
View this post on Instagram
Unfortunately, the Covid-19 has heavily impacted artistic events all over the world, especially ones that involve large gatherings, so it's unclear if Inakadate village will host its famous Tanbo art event this year. Luckily, there are plenty of photos and videos of its previous creations to admire online.
View this post on Instagram
For more amazing perspective artworks, check out Craig Alan's Populous series.
View this post on Instagram