Kuronushi is a young Japanese artist who specializes in shadow art. He puts together hundreds of pieces of cardboard that, when viewed from different angles, project detailed shadows.
You've probably seen shadow art – expertly arranged objects that project certain shadows – before, but Kuronushi's creations are on another level. He glues together hundreds of pieces of cardboard to create themed dioramas that project a shadow artwork when light is cast on them from a certain angle, but there is actually more to these rudimentary-looking cardboard installations. When Kuronushi turns his little dioramas, the shadows they cast change into related portraits. For example, for a scene inspired by the Wizarding World of Harry Potter featuring a broom-riding Hogwarts student and a half-moon, the installation also casts a detailed portrait of Harry Potter himself when seen from a certain angle.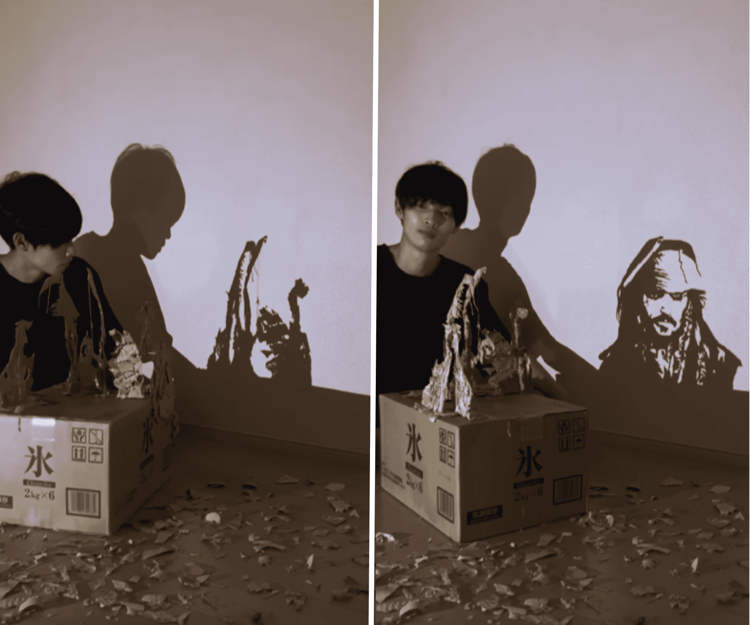 Believe it or not, Kuronushi is not a professional artist. He actually runs his own company and only creates art as a hobby. He was inspired to experiment with shadow art after seeing the shadow of his toddler daughter being projected on a wall on a sunny day. He noticed that her silhouette also resembled something else, so he decided to replicate the 'magic' in the comfort of his own home, using cardboard and a lamp.
View this post on Instagram
Kuronushi only started posting clips of his incredible shadow art on Instagram in September of this year, but he has already amassed a following of over 300,000, which is unsurprising, given his obvious talent. Before shadow art, he posted some insanely good pen-drawn portraits, so I guess you could describe him as a multimedia artist.
View this post on Instagram
For more impressive art forms, check out the modern stained glass art of Arjan Boeve, the pyrography portraits of Ivan Djuric, and Momotsuki's flower petal fairy dresses.
View this post on Instagram
For more of Kuronushi's art, you can follow the 23-year-old artist on X (formerly Twitter), TikTok, and Instagram.
View this post on Instagram
View this post on Instagram