Sandry Riffard is a talented tattoo artist from France who specializes in macabre hyperrealism with a three-dimensional layer.
We've featured some amazing tattoo art over the last 15 years, from titans of the trade like Arlo DiCristina and Karol Rybakowski, to talented newcomers carving out their own niches, like Eduardo "Duda" Lozano or Mexican artist Yatzil Elizalde, but when it comes to hyperrealistic macabre tattoos, it's tough finding someone better. The French artist has always had a thing for horror-inspired art, but he has come so far in the last few years, setting himself apart from other practitioners of the style with some incredible projects.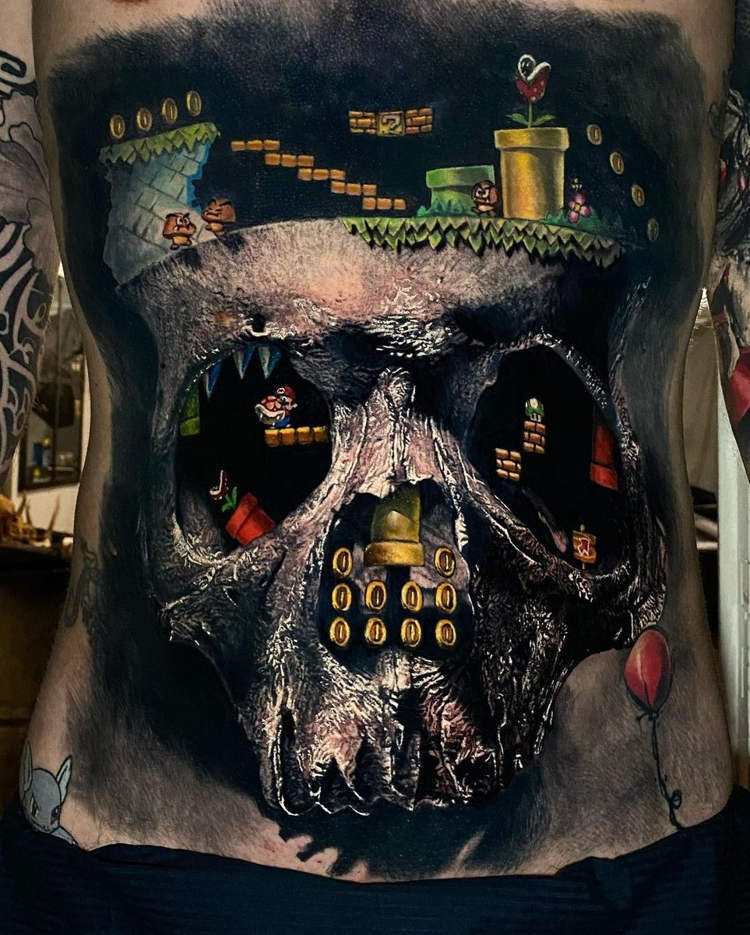 Photo: Sandry Riffard/Instagram
Hyperrealistic macabre tattoos have become the hallmark of the French artist, with skulls, full skeletons, demons, and zombies dominating his compositions. However, he sometimes combines these horror elements with unlikely themes, like Sponge Bob's underwater world or Super Mario, for some truly unique masterpieces. His stained glass-inspired tattoos are also something to write home about!
View this post on Instagram
Looking at some of Sandry Riffard's best works, it's hard to believe that he has no formal art education. He has been drawing and painting since he was a child, but he never dreamed of turning it into a career. He worked odd jobs like beekeeper, plasterer and model, but everything changed when a friend put a tattoo gun in his hand for the first time. It was an instant shot of dopamine that got him addicted, and he hasn't looked back since.
View this post on Instagram
Today, Sandry Riffard is recognized as one of the world's most talented tattoo artists, especially when it comes to macabre hyperrealism. Thanks to social media, has become popular enough to choose his clients, instead of the other way around, and people from all over the world travel to his tattoo shop to get inked by him.
View this post on Instagram
View this post on Instagram
View this post on Instagram
View this post on Instagram
For more of Riffard's amazing work, check out his social media – Instagram/Facebook.