Florencio Sanchidrián has been slicing Iberian ham (jamon) for the last three decades and today his name is synonymous with the Spanish delicacy. The 55-year-old is regarded as the world's best ham slicer in the world, and he charges accordingly for his services – a reported $4,000 to slice a leg of ham.
Born in the city of Avila, Spain, Sanchidrián trained as a professional bullfighter in his youth, but eventually put his red cape away and moved to Barcelona to work as a waiter. One day, he started cutting ham and simply fell in love with it. He started taking jamon slicing courses, and before long, he was winning slicing competitions as well as national and international awards. Florencio is now known as an ambassador of Iberian ham around the world, and he tours the five continents "with a leg of ham under his arm" at least once or twice a year.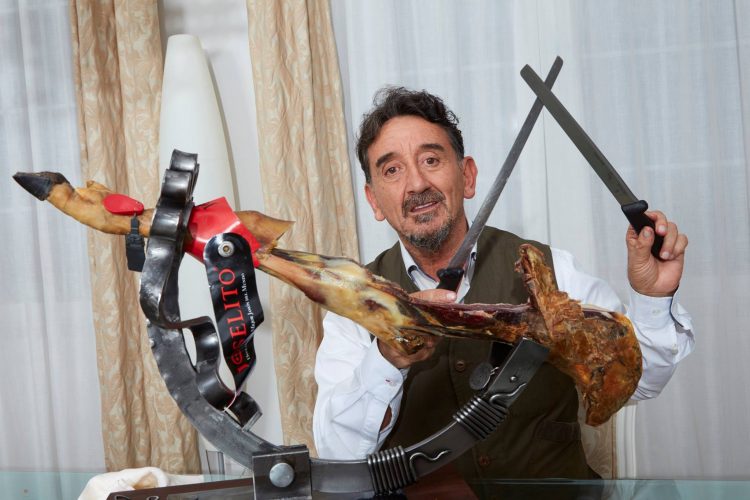 Photo: Florencio Sanchidrián/Facebook
Floren, as he likes to be called, has sliced ham for a number of celebrities, including President Barrack Obama, Robert De Niro, or David Beckham, and for his majesty King Juan Carlos of Spain. He has performed his jamon-slicing art at the Oscars, Hollywood private parties and at casinos in Las Vegas and Macau. Throughout the year, he follows the Formula 1 circuit, cutting ham for VIPs in the paddocks and lounges of the top racing teams.
Slicing machines are apparently out of the question, as far as jamon enthusiasts are concerned, as heat generated by the friction can alter the taste of the ham and melt the fat, thus ruining the whole experience. But while professional ham slicers are present at any decent cocktail party or event in Spain, they usually make around $250 per ham leg. That's not nearly enough for them to make a living, which is why most of them have multiple jobs. Florencio Sanchidrián, on the other hand, charges around $4,000 for cutting a leg of ham, a process that takes him around an hour and a half to complete.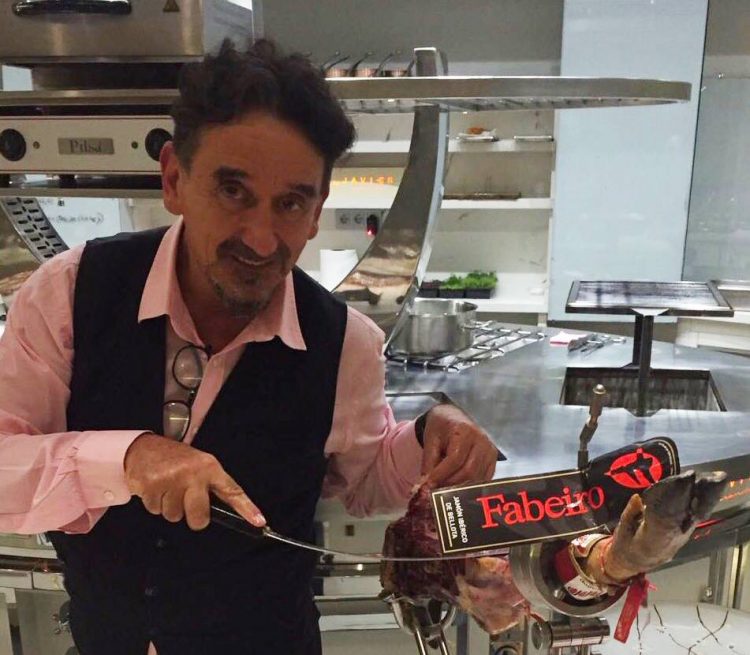 Photo: Florencio Sanchidrián/Facebook
He considers jamon slicing an art form – part cutting skill, part storytelling. While he masterfully cuts slices of ham thin enough to see through, he entertains his audience by giving them information about the pig's breeding, the history of Iberian ham and the type of jamon they are about to enjoy. It's an artistic performance, and people are crazy about it. At least crazy enough to pay him $4,000 for it. Other ham slicers, though, not so much. "I admire Florencio as a colleague, but the protagonist of the show should be the ham and not the cutter," one fellow slicer told The New York Times.
"You must know the product inside out—its breeding and the area where the Iberian pig usually lives and grazes," Florencio told VICE Munchies. "Before cutting each piece of ham, you should check all of the corresponding labels because they provide all the information we need to know about that specific piece—everything from the birthplace of the pig to where it was stored, plus the humidity and air temperature. Besides all this, a good cortador de jamones should try to manipulate the joint as little as possible and when serving the meat, help people appreciate it with all of their senses."
But it wasn't only his dedication to Iberian ham that made Florencio Sanchidrián the famous, well-paid "cortador" he is today, but his quirky rules, as well. He is known for using only his own instruments and not letting anyone else touch them, ever, and for not speaking English, despite his globetrotting lifestyle. "I think it is quite wrong for a ham cutter speak English," he says.