You may want to check the expiration date the next time you're out shopping for groceries. One Colorado family failed to do just that and ended up eating cereal from 1997.
On Monday, March 5th, the Carlese family, from Littleton, Colorado, bought a box of Quaker granola cereal, without knowing that they had actually picked up an edible relic that had expired way back in February of 1997. It wasn't until Josiah and Anthea Carelse sat down for a serving of cereal that they realized something wasn't right about it.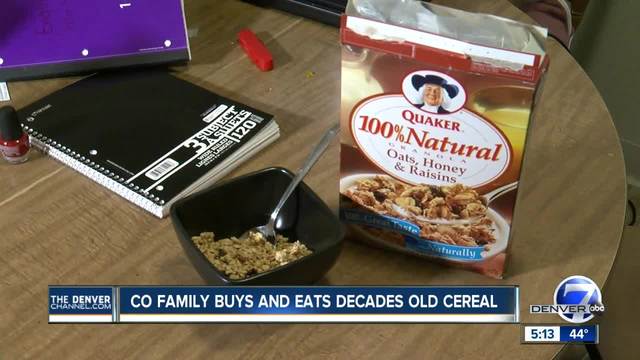 Photo: The Denver Channel
"I just started eating and thinking, 'It just tastes funny. It must be okay,'" Josiah told Lakewood Patch.
He went on to eat the whole bowl. His wife, on the other hand, only took a couple of bites before getting up and checking the expiration date on the box.
"I had about two bites, and that was it," Anthea told The Denver Channel. She then turned to her husband and said "Josiah, you're going to be really sick."
Fortunately, that wasn't the case, as he claims to be feeling just fine.
After checking the best-by date on the box, the Carleses were shocked to find that the cereal they had bought had expired in 1997. It seemed hard to believe, so they went online to see how today's Quakers Granola cereal boxes compared to the one they had bought, and found that they looked very different.
"We just grabbed this off the shelf, and yeah, 21 years old," Josiah Carelse said.
"I was not born yet," his daughter Layla added. "I'm only 11."
How the decades old box of cereal found its way on a Walmart shelf in 2018 is still a mystery, but after being contacted by the media, the retail giant stated that it will be looking into the matter.
I always knew expiration dates were bogus. That's all I got to say…