A group of Mexican friends have been causing hilarity on Latino social media by posting photos of their adventures at the Football Wold Cup in Russia featuring a life-size cardboard cutout of their friend, whose wife didn't give him permission to go with them.
It was during the Brazil 2014 World Cup that five friends from the Mexican city of Durango decided to travel to the next world cup together, in a bus painted in their country's national colors. They started saving for the trip right away and managed to buy a cheap bust that they decided could handle the long journey to Russia, but in April, just when they were getting ready to leave, one of the five friends gave the others some bad news – he wasn't going to make the trip with them because his wife didn't give him permission. He let them know via a Facebook video that has since went viral.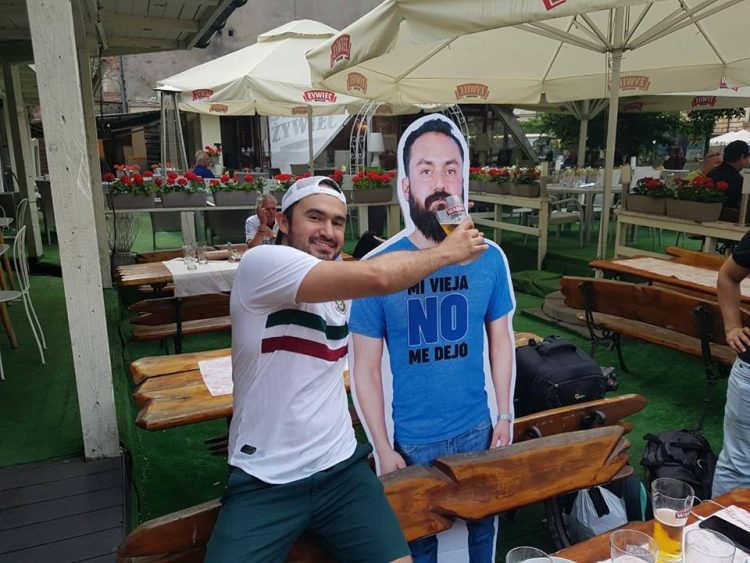 Photo: Ingue Su Matrushka/Facebook
"In 2014, we saw that many people traveled to the World Cup by car, and that's how we got the idea," Fernando Osorio, one of the five friends, told ABC Noticias. "We would do it in a bus designed by us specifically for this trip to Europe."
Even though Javier's announcement upset his friends at first, they weren't going to give up on their dream or their buddy. Just because the real Javier couldn't come on the trip didn't mean they couldn't take the next best thing – a life-size cardboard cutout of their friend wearing a hilarious "My wife didn't let me [go]" t-shirt.
The four friends set up a special Facebook page for their adventure, called "Ingue Su Matrushka" where they have been posting photos of themselves and the cutout of Javier in all sorts of hilarious circumstances. In one, he looks like he's sleeping with a sombrero covering his face and a Jaggermeister bottle next to him, in another, he is posing with the Mexican friends, but in most photos he is partying with his friends and having fun, just like the real Javier would.
The four friends left Durango in April and only made it to Moscow a couple of days ago, just in time for the first World Cup match.
As is always the case with this kind of story, both the real Javier and the life-size cutout of him have become memes on Latino social media.