Imagine working as a shop assistant at a jewelry store and having to jump over the glass counter to stop a potential client who's sprinting towards the door with an expensive necklace around their neck. You're about to lay your hands on them when they abruptly stop in front of the mirror to admire the jewelry, as if they had never planned to run off with it. That's the world Chinese shop assistants are living in these days, because of a viral jewelry-stealing prank trend.
Chinese social media has been flooded with videos of people putting on expensive jewelry at jewelry stores and then pretending to run out only to stop in front of a mirror, while an accomplice films the poor shop assistants desperate attempts to stop the apparent theft. Some will leap over the glass counters, others will try to go around them, but they all embarrassingly turn around the moment they realize the potential client's intentions. It's funny to watch, I will say that, but you kind of feel bad for the poor jewelers at the same time.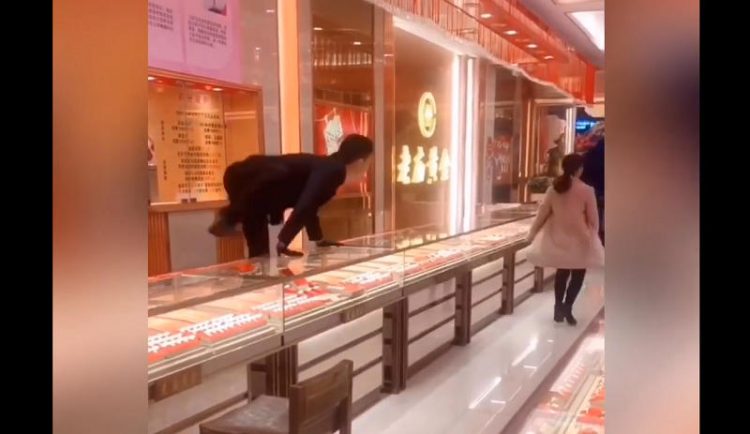 The jewelry-stealing prank craze is believed to have been inspired by an Indonesian influencer's shoplifting prank, which went viral in Asia last month. Harvinth Skin posted a video of himself trying out a pair of expensive sneakers at a sporting goods store and then pretending to run out wearing them, only to then sprint back, making it look like he was just trying them out. The shop assistant can be seen running after Skin, and then breathing a sigh of relief after realizing he never meant to make a run for it. Chinese pranksters just upped the stakes by essentially pulling off the same prank at jewelry stores.
Apparently, the challenge of the jewelry-stealing prank is to record the craziest reactions out of the clueless shop-assistants and then posting the videos online.
The jewelry-stealing prank is only the latest social media craze to sweep China. In the past, we've seen Chinese women putting live fish into their collar bone indentation to show off how skinny they are, and earlier this year we had the "Falling Stars" challenge, where people would take photos of themselves face down with their possessions scattered around them, as if they had just fallen.