Carolyn Hartz, a 70-year old entrepreneur and mother-of-three from Perth, Australia, recently shocked the world with her shockingly youthful looks. She claims that it's all do to a healthy lifestyle and cutting sugar out of her diet 30 years ago, but a lot of people believe that her wrinkle-free face and bikini body are the result of cosmetic procedures.
Photos of Carolyn Hartz have been doing the rounds online for over two months now, and for good reason. At 70 years of age, she looks much better than most women do at 50, and we know how obsessed people are with turning back, or at least slowing down the clock. But while most are in awe of her youthful looks and describe her as an inspiration, there are also those who accuse her of not being completely honest about how she manages to look so good at her age.
Photo: Carolyn Hartz
Carolyn, who has become somewhat of a media sweetheart lately, receiving invitations to appear on dozens of TV shows in countries like Brazil, Belgium, Ireland and Korea, credits her sugar-free diet and generally healthy lifestyle for her enviable appearance. She calls herself a former sugar-addict who often gorged on cakes and even had cheesecake for breakfast, but 28 years ago, she completely cut sugar out of her life, after finding out she was pre-diabetic.
"I have been sugar free for 28 years. It was difficult at first as I was a sugar addict but I believe it is one of the most important reasons I have been able to keep myself healthy and keep my body shape," Hartz told Daily Mail Australia. "I make sure I eat protein with every meal especially breakfast. It stops the cravings."
"A lot of women post 50 think that it's not possible to maintain a reasonable shape and weight when they reach 50 or beyond. I even speak to women who are in their 40s and who have had children and think they cannot regain their post baby body," Carolyn added. "We know our metabolism slows down as we get older it just means we have to take control and make healthier choices and work a little harder,' she said. I believe it is very important to be aware of the type of food you eat and the quantity of food you eat. Being mindful while you are eating is a huge factor."
The 70-year-old still gets a craving for sweets, but she now relies on xylotol, an all-natural sweetener which her company, Sweet Life, now imports. She bakes her own sugar-free treats, with ingredients like almond milk and coconut, and indulges in a few pieces of dark chocolate every day.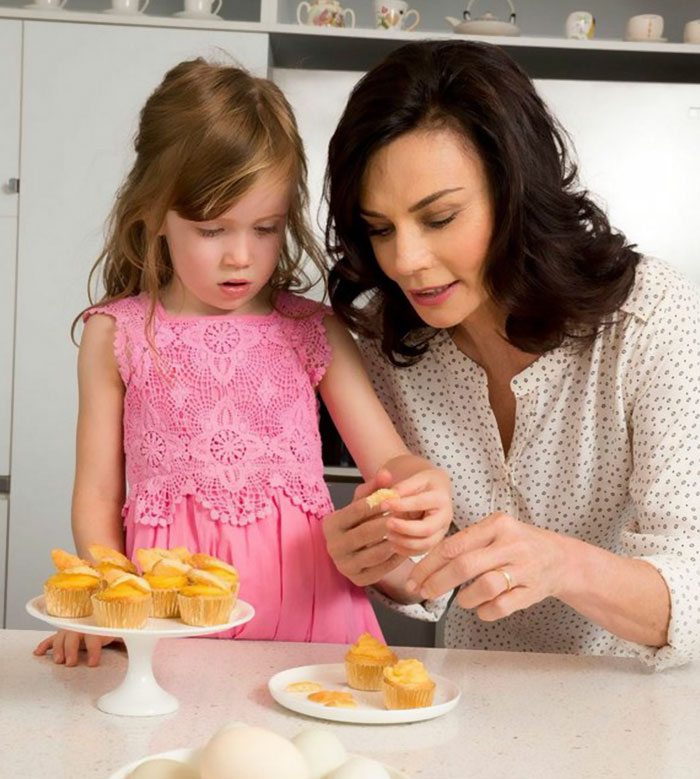 Photo: Carolyn Hartz
"I want to inspire people. I know how hard it is to quit sugar. I was a sugar addict. But if I can, so can anyone," Hartz told News.com.au.
But a sugar-free diet is apparently not enough to keep yourself looking stunningly young. Carolyn started practicing yoga at 65, meditates regularly, and tries to sleep at least 8 hours a night. She also tries to balance work and relaxation as best she can, working 4-day weeks, and doing the things she likes, like going to the movies with her husband, spending time with friends and family, and shopping at the farmers' market.
It definitely sounds like a healthier lifestyle than that of the average person, but some people just aren't convinced that it's enough to make a 70-year-old mother-of-three look as young as Carolyn Hartz does. After a recent appearance on ITV's "This Morning" show, many internet users took to Twitter to voice their skepticism:
"There's no way at 70 her eyebrows would be that high, is she going to talk about her surgery? Botox must be sugar free," one person commented.
"Go sugar free and have plastic surgery and Botox. That woman can't move her face. I'd rather stick to the sugar," another wrote.
"Going sugar free doesn't make you look that young without the help of surgery, not even a good anti-wrinkle cream would work," @mlawelshgirl wrote.
Sugar controversy aside, Carolyn Hartz is certainly not the only person to look incredibly young for her age, thanks to a healthy lifestyle. Just last week, we featured 50-year-old Chuando Tan, a Singapore-based photographer who looks better than most 20-year-olds, and there was also Masako Mizutani, Japan's Lady of Eternal Youth, or Thai beauty queen Apsara Hongsakula, all of which look stunning for their age.