When it  comes to making sure that her disabled grandson gets the education he deserves, there's nothing 76-year-old Shi Yuying won't do. The elderly woman has been making eight daily trips pushing Jiang Haowen to and from his school in Guangxi Province, for the past 4 years, and plans to continue doing it for as long as she can walk.
9-year-old Jiang Haowen was diagnosed with cerebral palsy when he was 2-years-old, and his parents divorced a couple of years later. His mother remarried several times and his father went to work in Guilin to support the boy and pay for his treatments. So he fell in the care of his grandmother, Shi Yuying. She not only pushes the boy to and from school several times a day, but she also massages his limbs, prepares all kinds of herbal medicines for him in hopes of improving his condition, and also pushes him to walk with support. Pretty much everything she does is for Haowen.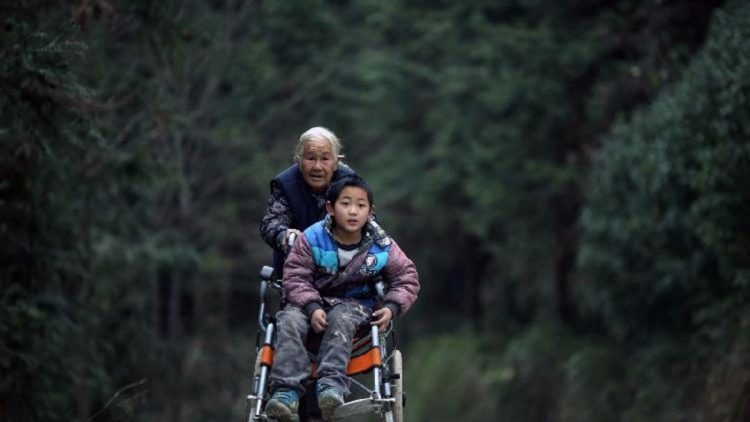 Photo: China News
Haowen's school is located 1.86 miles away from Shi Yuying's home, but the 76-year-old woman has to make the trip two and from school 8 times a day. She has to take him to school in the morning and in the afternoon, and pick him up in the afternoon and evening. That means she walks about 15 miles (24 km) a day, half of that pushing a wheelchair. But she's not complaining.
"As long as I can push the child, we must persevere," the dedicated grandmother told Huanqiu News.
With the help of his grandmother, Jiang Haowen has made considerable progress, learning to stand upright and even walking a short distance with support. He still has problems holding a pen in his hand due to his cerebral palsy, but he is a smart boy with a particular interest in math.
The family has reportedly racked up considerable debt paying Haowen's medical treatments and procedures, but that is of no importance to his grandmother. As long as the boy is making a progress and getting a good education, nothing else matters.