Iranian actors dressed as Islamic State fighters recently stormed a shopping mall in Teheran, in an attempt to promote a new film about a father and son who travel to Syria to deliver humanitarian supplies but end up kidnapped by ISIS. Unfortunately, their performance was a bit too good, and caused some shoppers to run for their lives.
It was supposed to be a harmless publicity stunt for Iranian director Ebrahim Hatamikia's new film, 'Damascus Time', with actors dressed as ISIS militants peacefully visiting the Kourosh Complex shopping mall and cinema, in Teheran, and posing for pictures. However, the actors decided to show off their acting skills, and really got into their characters, storming the shopping complex and shouting 'Allahu akbar' while waving their fake firearms and machetes around. One of them actually rode through the mall on a horse, while another pretended to connect the wires on a fake bomb.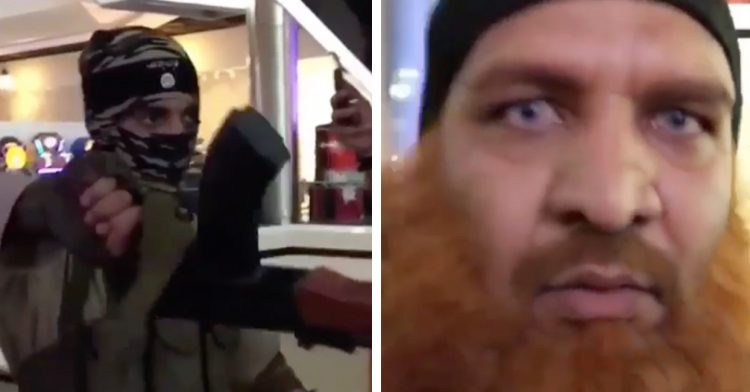 Photo: video screengrab
While some shoppers recognized the actors from 'Damascus Time' and realized it was only a stunt, others freaked out and ran for their lives, thinking it was a real ISIS attack. And who can blame them, really? Just last June, the Islamic State claimed responsibility for two simultaneous attacks in Teheran that killed 17 people and injured 43 others, so it wasn't like an actual attack was that improbable.
As you can imagine, the controversial publicity stunt caused quite a backlash on Iranian social media, and director Ebrahim Hatamikia even put out an apology:
"I was under impression that someone is going to be in red beard standing outside Kourosh complex so that people can take pictures," he said. "I didn't imagine there would be a horse, crowd and shouting inside the complex, I wasn't aware. The show was definitely beneath the dignity of my film"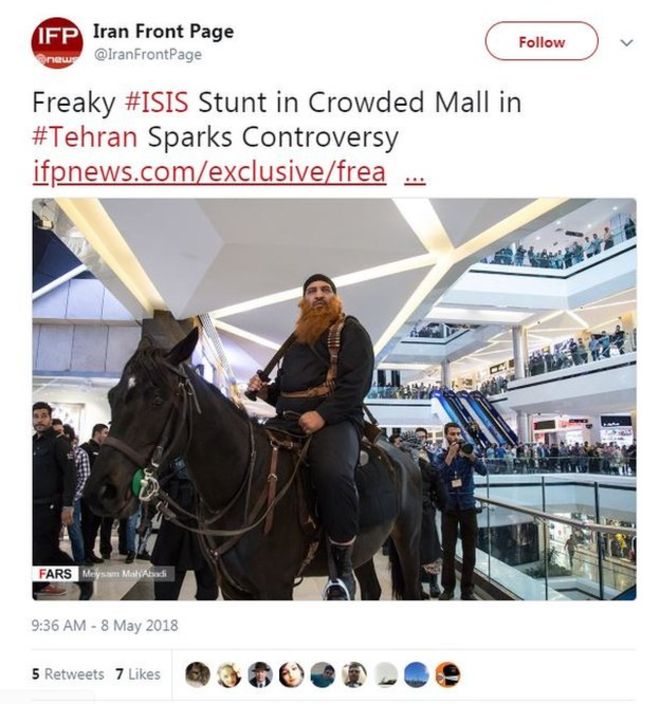 Photo: Iran Front Page/Twitter
The stunt was labeled a "big mistake and an insulting joke" by Iranian producer Seyed Mahmoud Razavi, and several journalists wrote that it was normalizing violence.
Despite some voices trying to put a positive spin on the whole thing by claiming that those terrified by the stunt should be grateful to the brave Iranian soldiers fighting real ISIS militants abroad, the general consensus was that this promotion backfired miserably.
The ISNA news agency reported that the people who orchestrated the event have been summoned by Tehran's Law Enforcement Force, and Tehran police chief Brigadier General Hossein Rahimi suggested that they could face criminal charges:
"What happened in the Kourosh mall was against the law and it had not been coordinated with the police," Rahimi told ISNA.