A popular Japanese YouTuber with tens of thousands of fans who mostly focused on filming her generous bosom recently outed herself as a 37-year-old man who had been using a silicone breast prosthesis.
Chiharu (むね肉ちはる) only started her YouTube career in December of last year, but by the end of March, 2021, it had already attracted 20,000 subscribers, despite featuring only six clips. They weren't your usual YouTube fare, though, but weird videos of a woman filming her nightly exercise routine, with the camera focusing on her generous bosom most of the time. In fact, her most popular video showed the mysterious woman's breasts bouncing up and down while jogging. The weird thing about Chiharu was that, the few times she showed her face on camera, she never took off her face mask and never said a word. Turns out she had a very good reason…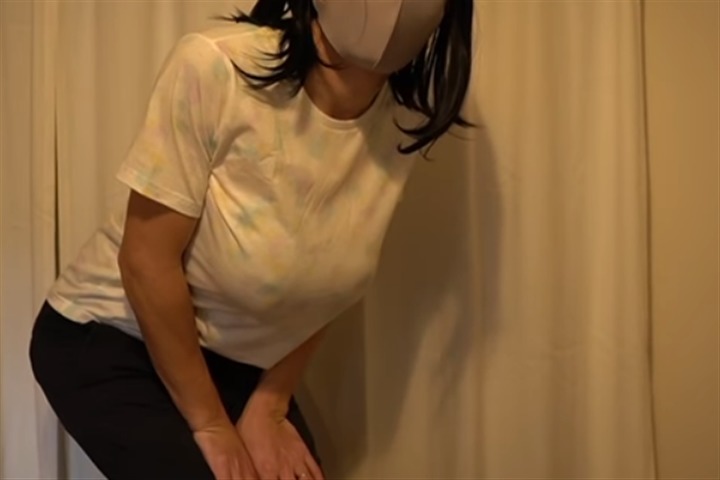 Photo: YouTube screengrab
The meteoric rise of the むね肉ちはる YouTube channel inspired its creator to finally reveal their face to the world, in celebration of reaching 20,000 subscribers. The YouTuber's fans knew they were in for a surprise, but none of them were ready for what Chiharu  had in store for them…
On March 25, Chiharu published a new video on their channel, only instead of the mysterious busty beauty that had hosted the channel up to that point, it featured a middle-aged man wearing a blue sweat jacket and a guilty smile on his face.
View this post on Instagram
During his big reveal, the 37-year-old Japanese man said that he came up with the idea of becoming a YouTuber last year, after receiving a considerable salary cut from his employer, due to the coronavirus pandemic. To make matters worse, his beloved pet dog had been diagnosed with cancer and required expensive treatments. Knowing that attractive girls have an easier time attracting an online audience, he decided to become one himself…
Putting on a long hair wig and strapping on a large silicone prosthesis to emulate female breasts, Chiharu started posting nightly workout and jogging videos of himself, without even telling his own wife. He never dreamed he would become this popular in such a short period of time, but his surprising success also made him wonder the ethics of his YouTube project.
View this post on Instagram
The 37-year-old man added that he opted for his female guise because it was the easiest way to get his YouTube channel monetized. To get ads on his videos, he needed at least 1,000 subscribers, and 4,000 hours of watch time in 12 months, which can be quite challenging for a lot of wannabe YouTubers.
Chiharu told his fans that, after giving it a lot of thought, he decided that he couldn't keep his gender a secret anymore, because he didn't want to build his career on deceit. To show the world that he wasn't joking, the man showcased all the things he had been using to transform himself into the busty beauty many fans had been gushing over.
Apart from the silicone prosthesis, the long hair wig and the women's clothes, Chiharu also used makeup and had to master the art o applying things like foundation and mascara to take his illusion to the next level. But while some admired his dedication and commended him on revealing the truth, some of his fans were angry about being deceived.
"What the hell have I been watching?" one person asked in the comments.
"I'm going to throw up," someone else wrote.
After the big reveal, Chiharu's subscriber count dropped from just over 20,000, to 18,300, which he admitted was to be expected. It's unclear what he plans to do moving forward but he could definitely take his YouTube channel in a new direction if he really wanted to, like teaching people his makeup tricks.
This is just one of the many recent stories that make you not trust your eyes on the internet anymore. Just a couple of weeks ago, we wrote about RuiCovery, the South-Korean Youtuber whose face was created with advanced deepfake technology, and before that we had the AI-controlled realistic-looking news anchors, and virtual social media influencer Reah Keem.