Chichibugahama Beach is a popular tourist destination in Mitoyo City, Japan which rose to fame thanks to photo-sharing social media platforms like Instagram.
If you ever find ourself doubting the power of social media, just remember the story of Chichibugahama Beach. A once obscure seaside destination in Japan's Kagawa Prefecture, this place turned into a magnet for Instagram influencers virtually overnight. It all started in 2016 when authorities in Mitoyo City organized a photo competition to boost local tourism. One of the most eye-catching entries featured two children reflected in the shallow waters of Chichibugahama, and the visual effect was so stunning that the idea of using this mirror effect as a tourist draw turned into a marketing success story.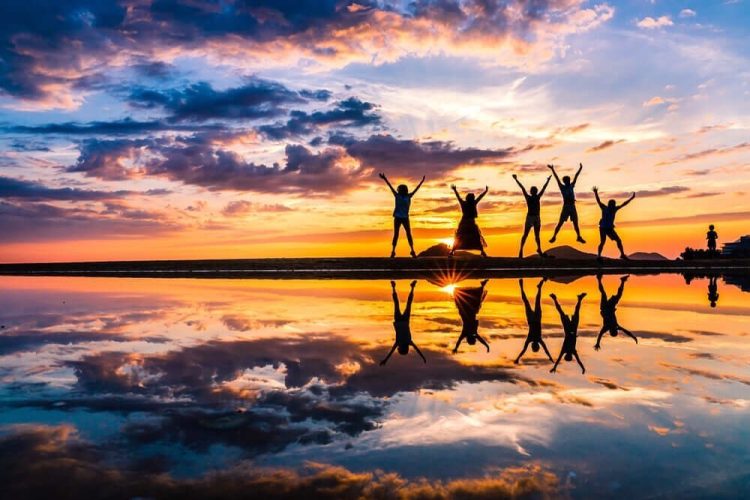 After the water reflection entered in the above-mentioned competition got so much attention on a local level, authorities decided to go all-in on the mirror beach pitch. The city website started posting tips on how to take the perfect picture at Chichibugahama, and posted a calendar listing tide and sunset times at the beach. As the photos found their way on social media, the Mitoyo City website got over 40,000 visits in just a few days, dozens of times more than usual.
At one point, a travel magazine called Chichibugahama Beach 'Japan's Uyuni Salt Lake,' compared it to the world-famous tourist destination in Bolivia, where the sky is reflected in a natural, watery mirror. National televisions started broadcasting reports from this once unknown destination, and Chichibugahama became THE place to visit on Shikoku Island.
A place that any locals hardly knew about started drawing tens of thousands of tourists from all over Japan in just a couple of months, and it was all virtually because of a single photo that got a lot of attention on social media. Nowadays, it's common to see Instagrammers gathering along the one-kilometer coast of Chichibugahama at sunset, struggling to get an eye-catching photo for their accounts.
"The fact that many people gather in a place which locals barely even look at is something which makes me especially happy," Yukari Ishii, a worker with Mitoyo City's tourism department, told Japan Forward in 2018. "Given the drastic shift this year, one really feels the force of social media."
The coronavirus pandemic left its mark on Japanese tourism, and Chichibugahama Beach was no exception, but the place is now already famous as the place where the sky and the ocean meet, so it's bound to see a resurgence as soon as restrictions are lifted.