A private college in the Indian state of Karnataka has sparked controversy after photos of its students wearing cardboard boxes during a chemistry exam went viral on social media.
After photos of the students wearing cardboard boxes on their heads to prevent cheating started doing the rounds online, regional officials in Karnataka rushed to Bhagat Pre-University College to complain about the "inhumane" treatment of students. Different version of the story started circulating online, including one that claimed the college only turned to cardboard boxes after having repeatedly caught students cheating, despite multiple warnings.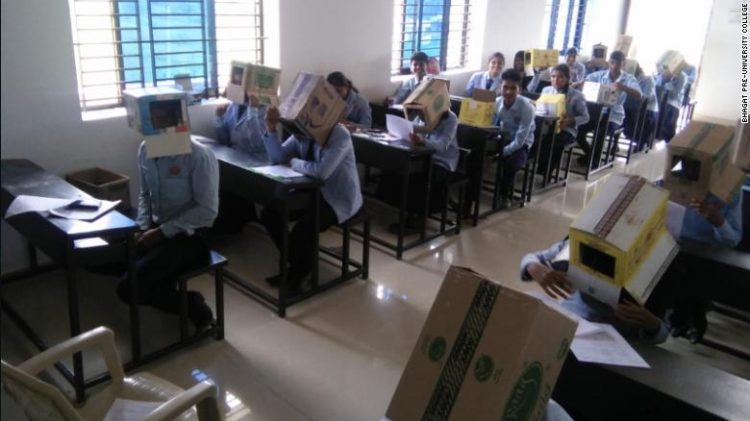 "This is totally unacceptable. Nobody has any right to treat anybody more so students like animals. This perversion will be dealt with aptly," state Education Minister, S Suresh Kumar, declared.
"We have clearly told the management to give a written explanation and if this kind of incident is repeated in the future, the department will cancel the license of the school," Deputy Director of Public Instruction Department, SS Piraje, said. "We will take strong actions against the college after the completion of the inquiry. We have already served a notice to the college and are waiting for the reply by the institutions. Once received, we will proceed with our inquiry."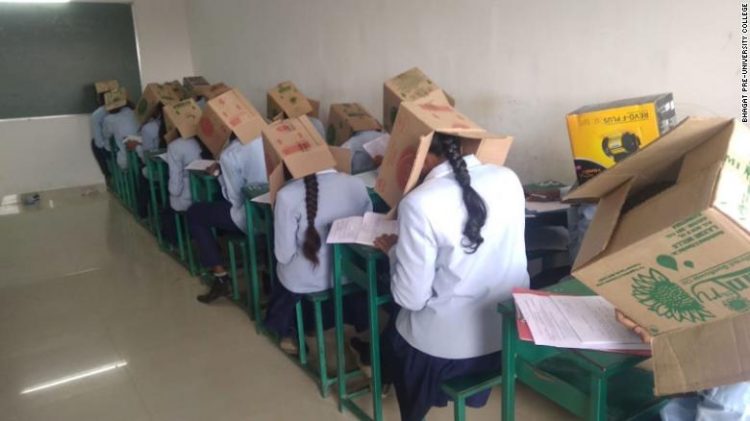 In their defense, Bhagat Pre-University College officials admitted to having made the students wear cardboard boxes on their heads, but added that the students had given their consent and had even brought their own boxes.
"They said they were comfortable with the trial, the college did not harass any student, it was optional and some students experimented, some did not," principal MB Satish told reporters. "Our measures are for the betterment of students. We don't want students to get diverted at the time of taking examinations. The measures were taken as an experiment, and we received both positive and negative feedback."
To convince everyone that the whole thing was a voluntary experiment, the college principal indicated that some of the students in the photographs weren't wearing boxes on their heads, asking that some others removed them as well after a few minutes, and that the faculty asked all the students to take off the anti-cheating accessories after an hour.
Bhagat Pre-University College also explained that they only went ahead with the bizarre experiment after seeing it used in the Indian state of Bihar, where it was commended as ingenious. Unfortunately, in its case the feedback was not positive at all.
Interestingly, this same method was used just last month at a high-school in Mexico, and the feedback was not much better.