French champagne brand G.H. Mumm has poured a lot of time and resources into developing a futuristic champagne bottle that can be used in space.
The Mumm Cordon Rouge Stellar is the first champagne designed specifically for space travel. It comes in a half-glass bottle and features a specially-designed stainless steel opening-closing device that curves over the classic cork. The unique bottle apparently features a finger-controlled valve which, when engaged, releases a globule of champagne spheres. Astronauts or space tourists can then scoop the drink out of the air using special glasses that resemble tiny egg cups.
"This project is, of course, very stimulating because of its highly technological nature and its 100 percent French identity, from design to manufacturing," designer Octave de Gaulle said. "But it is also very exciting because technology serves a greater purpose here: champagne condenses the memory of a terroir, a climate, an ancestral savoir-faire and tasting sensations for all those who will evolve far from Earth."
Regular champagne bottles aren't really fit for zero gravity. The champagne itself reacts differently to space conditions, as the bubbles do not rise to the surface and so they do not release the aroma molecules as they do on Earth, thus changing the smell and primary notes of the drink. In 2017, when the idea of commercial space travel started getting traction, G.H. Mumm decided to tackle all these issues.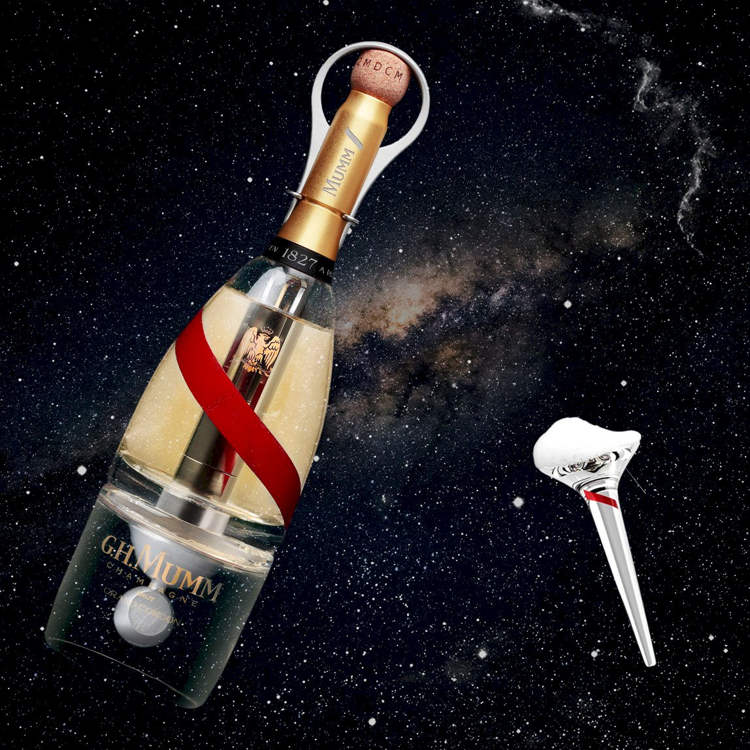 After five years of research and collaborations with the likes of CNES (Centre National d'Etudes Spatiales), the French government space agency, and privately-funded American space company Axiom Space, the French champagne maker recently unveiled the Mumm Cordon Rouge Stellar.
"Imagine a crew in their capsule on their way to March for five months, whose members have not seen a fruit or vegetable since their departure, are no longer in direct dialogue with Earth. They are confined to one or two rooms, sleep in sleeping bags hung on a wall… And one day, it's the birthday of one of them, or Christmas. How to mark this moment?" Octave de Gaulle asked. "With the champagne that we have developed, they will have a moment of conviviality and humanity. It's not about drinking, risking drunkenness, but about recreating up there a ritual that we know on Earth, where it is impossible to realize it for the moment."
Apart from the futuristic bottle that comes in a protective shell made of aeronautical-grade aluminum, G.H. Mumm also created a very special champagne designed for enjoyment in zero gravity. The company's chief winemaker, Laurent Fresnet, aged the liqueur d'expédition in oak barrels and then kept the finished champagne 'sur latte' for five years.
The result of Fresnet's work is a bolder and spicier champagne, with stronger fruit notes and more vibrant acidity than the version of Mumm Cordon Rouge meant for terrestrial consumption. However, it is worth keeping in mind that these intense aromas and flavors will feel much less intense when experienced in outer space.
G.H Mumm has not currently put a price on its innovative Mumm Cordon Rouge Stellar champagne, but unless you're planning to travel in outer space anytime soon, you shouldn't really be interested in it, as it's designed for consumption in zero gravity.