It seems that these days people will go to any lengths for some attention on social media. Take YouTube, for example: it abounds in clips that will certainly make you go "Wow!" but also question the sanity of the uploaders. One guy enjoying his 15 minutes of fame right now is 22-year-old Jay Swingler from the UK, who made headlines for cementing his head inside a microwave oven for some YouTube views.
In hindsight, it looks funny and Jay certainly got the attention he craves. However, it may have gone horribly wrong: his friends couldn't free him for an hour and a half, and emergency services had to be called. As relieved as Jay was to be rescued, he is absolutely unrepentant, saying the whole thing is hilarious and he is thrilled with the attention his video has garnered.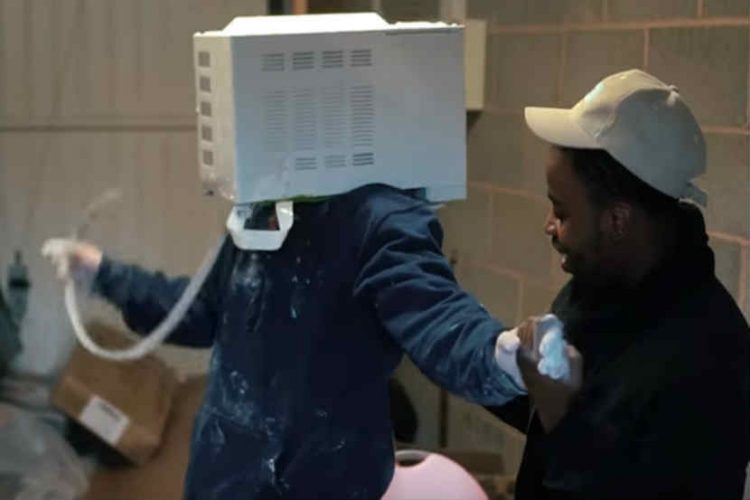 Photo: YouTube screengrab
The project was carried out in a garage in Wolverhampton and filmed for TGFBro – the YouTube channel where Jay uploads his prankster videos. He wrapped his head in a plastic bag and stuck it in the microwave oven, while the friends assisting him filled it up with seven bags of Polyfilla, a spackling paste used to fill cracks. The microwave was supposed to serve as a mold but things got hairy and Jay's friends spent 90 minutes in attempts to free him. The celebrity prankster was able to breathe through an air tube his pals managed to insert into the microwave, but the expanding Polyfilla made it increasingly harder for the air to get through.
The ambulance crew they called was unable to free Jay and they summoned the fire brigade. When the firefighters arrived, it took another hour before Jay was finally freed. Watch Commander Shaun Dakin, who runs the West Midlands Fire Service crew dispatched to the scene, said that the prank could have ended in suffocation or serious injury. It turned out to be quite a tricky rescue operation.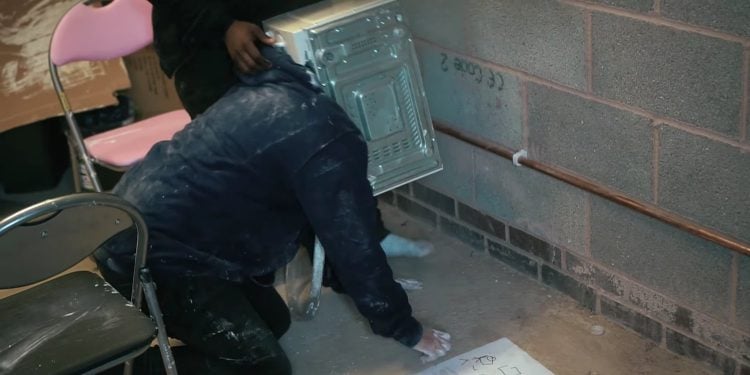 Photo: YouTube screengrab
"As funny as this sounds, this young man could quite easily have suffocated or have been seriously injured. Taking the microwave apart was tricky, because a lot of it was welded. We video-called our technical rescue colleagues for advice and eventually managed to get him unstuck…It took us nearly an hour to free him," Dakin said.
Jay was criticized for wasting the time of the emergency services and possibly preventing them from responding to the call of somebody whose life was in genuine danger. However, the prankster doesn't think he owes any apologies.
"I don't care, what about people who drink and drive? What about people who start fights on the street of the night? Is that not wasting police time as well? And in fact I wasn't wasting their time, they saved my life," he said.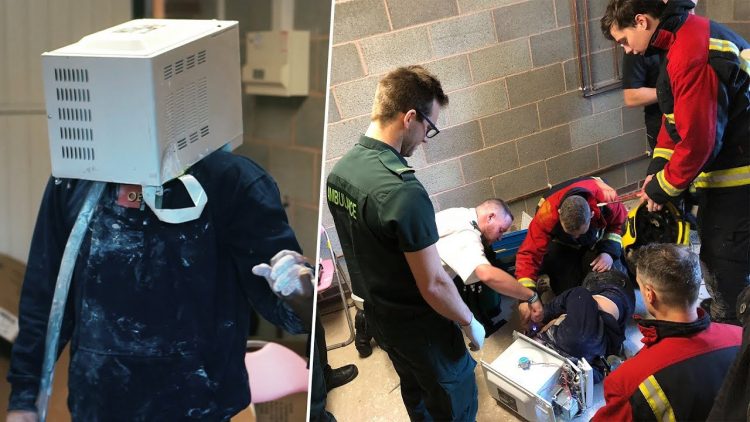 Photo: YouTube screengrab
Despite lambasting his critics, Jay did express gratitude to the people who rescued him.
"I appreciate every effort you went to to free me from that thing, you don't know how grateful I am. I was so scared, you comforted me, you made me feel so much less stressed. You guys are awesome at your job, and so were the paramedics. I appreciate you guys a lot."
Jay is absolutely thrilled with the attention he's been getting and doesn't think he should be apologizing to anyone.
"I couldn't give a f-, I don't care about defending myself. I think this s**t's hilarious, man. This s**t is jokes, like. I had a damn microwave stuck to my head. Do you know how many people are going to remember that in comparison to that news article that said 'man stole toy from a shop, gets a fine'? I'm pretty sure this story's more interesting than your everyday read on another website, which is why you're all clicking it and reacting so much, because it's so f**king bizarre. Literally every news publication has covered this, like your mum covers her acne with concealer," the YouTuber said in the first video released since the prank.
All's well that ends well and things have wrapped up neatly for Jay, who won't have to cover the cost of his rescue. The hour spent on extracting his head from the microwave cost 650 pounds ($870), but the fire brigade won't be sending him the bill "because his life was at risk."