Drugslab, an educational YouTube Channel funded by a public broadcaster in the Netherlands, has been accused of glamorizing drug use by having three young moderators take drugs on camera and documenting their effects for the viewers.
You can find YouTube tutorials on just about anything these days, and thanks to Drugslab, that includes snorting a line of cocaine and taking LSD or ketamine. In fact, if you want to learn about a certain illegal drug, all you have to do is post a comment, and the three young moderators will do their best to procure it from dealers and try it on camera. They will provide valuable tips on the proper dosing of the drug, how often you can take it, how it affects your heart rate and body temperature, and how it affects your mood. And, since one of the hosts actually takes the drug, you can see the effects yourself.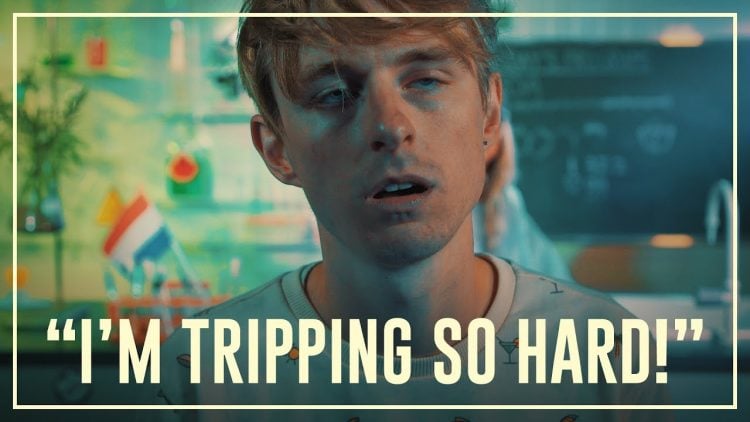 Photo: Drugslab/YouTube
One YouTube commenter described Drugslab as "a kids' show that tells you how to take cocaine", which is actually a pretty accurate description of the show. It's shot in a set decked out to resemble a school science lab, the hosts – Nellie Benner, 30, Rens Polman, 25, and Bastiaan Rosman, 23 – engage in playful banter throughout the program, and the whole thing has a relaxed and educational vibe.
According to the Daily Mail, the drugs used on Drugslab are bought from drug dealers, with a $65,000 grant from the Dutch ministry of education, and are tested by Holland's Drugs Information Monitoring System. Producers insist that they take all necessary precautions to avoid any medical problems, but a first-aid specialist is always present on set during filming.
Drugslab launched on September 8th, 2016, and quickly became insanely popular, both in the Netherlands and abroad. The controversial channel has over 500,000 subscribers, and most of the uploaded videos have hundreds of thousands of views. Dutch audience accounts for a quarter of views, with the US, UK, Russia and Germany accounting for another third. Videos also feature English translations for international audiences.
As you can imagine, there has been a lot of controversy around Drugslab from the very beginning. While many have accused the YouTube channel of glamorizing and promoting the use of dangerous drugs for recreational purposes, its founders insist that they are merely committed to informing the public about the do's and dont's of taking various drugs and about their effects. In fact, every episode begins with the warning "This is an educational show about the use and the effects of drugs. It is explicitly not the intention to encourage people to use drugs."
YouTube itself has been accused of promoting drug use by hosting a channel like Drugslab, but the Mountain View-based internet giant has declared itself 'proud to be a place that people can visit to find information on a range of subjects', adding that Drugslab has clear "educational value".
The three young Drugslab hosts have already tried a wide variety of drugs, from weed and tobacco to ketamine,ecstasy, LSD and MDA, and even cocaine. They basically try any drug that their viewers want to learn about, but according to producers, moderators are free to refuse taking a certain drug, or a class of drugs. Rens Polman, for example, claims that he will never try heroin, crystal meth "or any other drugs that make you become an addict almost immediately."
"We review what the viewers want to watch," Polman said. "In principle we are open to all the drugs that we want to try. But if there is something that someone does not want to do, that person can of course indicate this. Has not happened yet by the way."