Makeup and beauty products are generally created with women in mind, but one company seems to think that there's a niche for men's makeup as well. Formen actually has a whole line of makeup and skincare designed to fix several issues that men often struggle with.
Formen is the brainchild of Andrew Grella, who first realized the need for men's makeup on on the day of his high-school prom. Nobody wants to show up at the biggest party of their life with a face full of acne, but that was just what Grella was going to have to do, unless he could find a way to fix things, and fast.
"I went to my mom and she said, 'Let me put some makeup on you,' and I said she was crazy," the young entrepreneur recalls. "So I left and went to Shoppers Drug Mart and Walmart, places I thought would maybe carry products aimed specifically for men that could fix my problem." To his surprise, after checking all the aisles at these cosmetic shops, he couldn't find a single men's product, so he had to accept defeat, return home and let his mother use her own makeup arsenal on his face.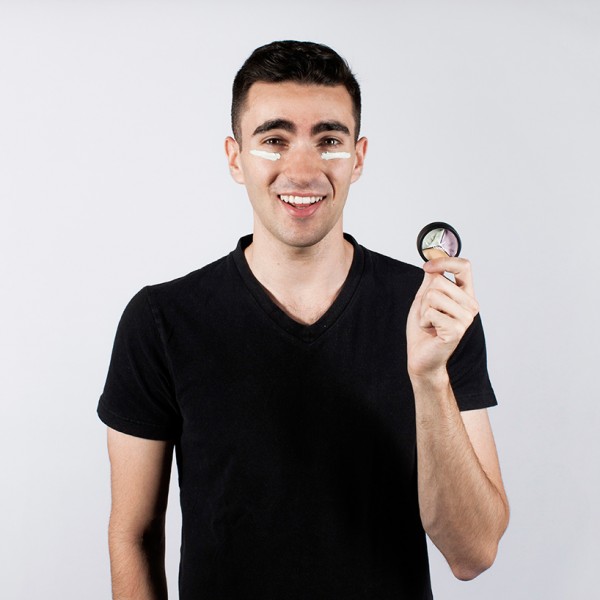 Photo: Formen/Facebook
To Andrew's surprise, the makeup did a great job concealing his acne, and that got him thinking about a dedicated cosmetic products line for men. "After I saw what it could do for my skin, I figured why isn't there a dedicated product (for men)?", he said. So, during his time at Ryerson University, as a student at the Ted Rogers School of Management, he laid the foundation for what would later become Formen, a male makeup and skincare company.
He started by doing market research, to make sure there was actually an interest in men's makeup and skincare. He then set out to create products that stood out from women's makeup. He decided to focus on problems that a lot of men deal with and create products designed to fix these particular issues, rather than enhance one's general appearance.
The Formen line currently consists of four products: a concealer palette, blotting powder, an under-eye concealer palette and a color correcting cream. They are all designed to fix specific problems, without giving the appearance that you're wearing makeup.
"Women's cosmetics can be applied in different ways, you can put blue eyeshadow on, you can change your appearance," Andrew said. "Our product is problem-solution based. So if you have a shiny face our blotting powder fixes that, but it's translucent so nobody sees you're wearing it."
Formen is a Canadian company, but Grella wanted to launch his line in South Korea, one of the most advanced makeup and skincare product markets in the world, knowing that if he could make it there, he could make it everywhere. His goal is to expand globally and dreams to one day be able to one day walk into a cosmetics shop in any country he visits and say 'that's my product on the shelf'.
The guys at Insider recently tried out the Formen line and some of them got some spectacular results. Check out their video below: