52-year-old Simon Lee has been sleeping rough on the streets of Hong Kong for the last seven years, but unlike most homeless people, he didn't just wind up there after some tragic, life-altering event. He actually chose to be homeless, giving up on his material possessions and a comfortable office job for a carefree, stress-free life.
You couldn't really tell by looking at him, but Simon Lee graduated from university with a degree in chemistry, and until 1997 he had a steady office job. But one day he decided he didn't need the stress of a white-collar job, so he quit and moved to neighboring Macau. He made a living tutoring children for a few years, but in 2004, he moved again, this time to Zhuhai, where he lived off of his savings, before going back to Macau two years later. The casinos were starting up and rich gamblers were more than happy to share a tiny fraction of their winnings with someone less fortunate than them, so Simon decided to live on the street and survive off casino hand outs.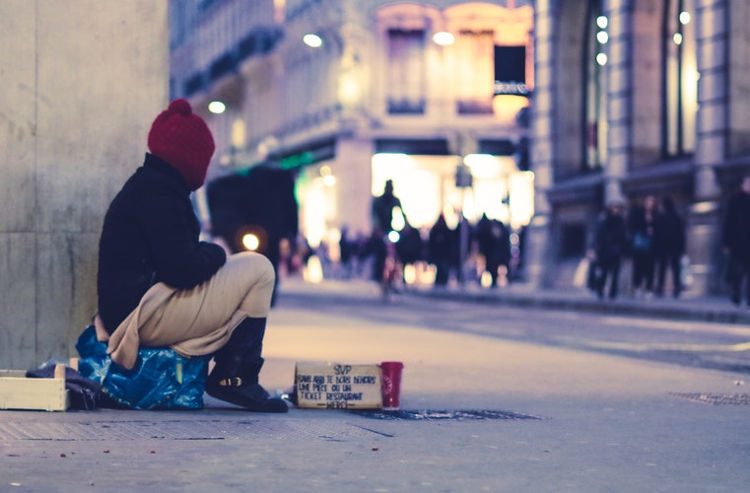 Photo: @evstyle/Unsplash
Sadly, his life of leisure as a homeless person in Macau came to an end in 2010, when authorities there deported him to his native Hong Kong, but he simply continued living on the streets in the most affluent part of the island city, getting by with leftover food from a local McDonald's and hand-outs from a Sikh temple. It's not exactly the ideal lifestyle for most people, but he wouldn't trade it for the world.
"To me, it's liberating. I don't pay rent, I don't have to buy a house, I can sleep anywhere. Street sleeping solved a lot of my problems," Simon Lee told the South China Morning Post. "I think I actually save resources for society. I'm low maintenance, I don't use money, so I don't have to make money. I don't chase fame or material things."
Most of Simon's clothes have been donated by Hong Kong social workers or picked up from the streets, and he doesn't receive any income from the government. He sleeps on the street or in parks, but he doesn't miss the comfort of a warm bed. He hangs around Hong Kong Island, the wealthiest part of the city, and claims that he can always find something useful that someone else has discarded.
"Hong Kong has so many rich people and so many wasteful people. There's always something I can use that someone else has discarded," Lee said.
One of this voluntary homeless person's favorite pastimes is blogging. Every day he goes to Central Library in Causeway Bay, where he has free access to the internet, and writes about his experiences as a homeless person as well as about his unique outlook on life. While he's not as popular or glamorous as other bloggers, he currently has over 6,000 people following him online.
"If you want to be happy, instead of being like a human and carrying around the burden of pride and dignity, be like an animal instead," the 52-year-old believes.
Simon dated someone for three years while he was in Macau, but he has been single ever since. He also broke off relations with his parents and three brothers years ago, because they had other values. He believes that he is better off this way, because being connected to them brought him only pain and stress.
One of the things he loves about being homeless is not having to worry about tomorrow. He just lives in the moment and lets fate decided what happens with him.
via Neatorama