Want to brag about your active social life on Facebook, when you really have no friends? Trying to make your ex jealous by posing with an attractive new partner, but can't find a date? No need to worry, this Japanese company will happily send you some fake friends or lovers for a fun photo shoot that will make your online friends green with envy. You'll have to pay for it, though.
Keeping up appearances on social media is apparently very important to a lot of people, and Japanese company Family Romance is committed to helping its clients do just that. Whether they are looking to show co-workers that they are much more fun to be around than they appear to be at the office, or trying to impress a special someone with their active social life, the company's Real Appeal service aims to help them succeed, by providing some fake friends for impressive photo shoots. Clients can then post these pics on their Facebook or Instagram pages to show everyone how fun their life is, without anyone knowing it's all a paid-for illusion.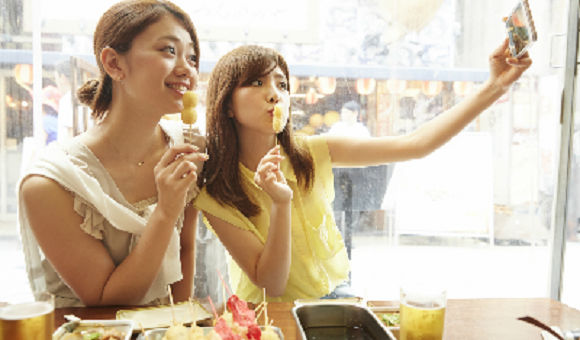 Depending on what goal Family Romance clients are trying to achieve, they can request fake friends of a certain age, gender or sporting certain physical traits, and make their final selection from a series of employee photos available on the company website. You can book as many fake friends as you need, as long as you agree to do it for a minimum of two hours and pay a fee of 8,000 yen ($71) per fake friend, plus whatever other expenses your photo-opp incurs (travel, hotel stays, drinks, etc.).
The fake friends provided by Family Romance can also play the role of fake girlfriend/boyfriend, allowing clients to either show their exes that they've moved on, or win them back through sheer jealousy. To make it seem like the a real, evolving romantic relationship, clients book the same fake friend for multiple photo shoots. And if you're having trouble coming up with ideas for effective photo ops, the company is more than happy to help with that too.
But Real Appeal is just the latest in a variety of services offered by Family Romance. You can also hire actors to play your parents, your husband, and even your children, for just 20,000 yen ($175) per person, or book a whole crowd of people to attend your wedding ceremony and make you look popular in front of the few real friends and family that show up for free. You can even hire someone to apologize on your behalf. Whatever your need to create the appearance of a great life, Family Romance can apparently make it happen.
Photos: Family Romance
via RocketNews24