A 40-year-old man allegedly traveled almost 10,000 miles from England to an art gallery in Aspen, Colorado, where he used a sharp object to slash a $3 million dollar painting by New York artist Christopher Wool, before storming out. It was later revealed that the painting was owned by his father.
The bizarre incident occurred last year, on May 2, when a man wearing sunglasses, black jeans, a black jacket, a hat, gloves and a full beard entered the Opera Gallery in Aspen and walked directly up to a painting called "Untitled 2004". He then took a knife or other cutting object out of his jacket pocket and slashed the painting twice before running out of the gallery. A one-year investigation recently revealed that the man who carried out the slashing was none other than Nicholas Morley, son of the painting's owner, one Harold Morley.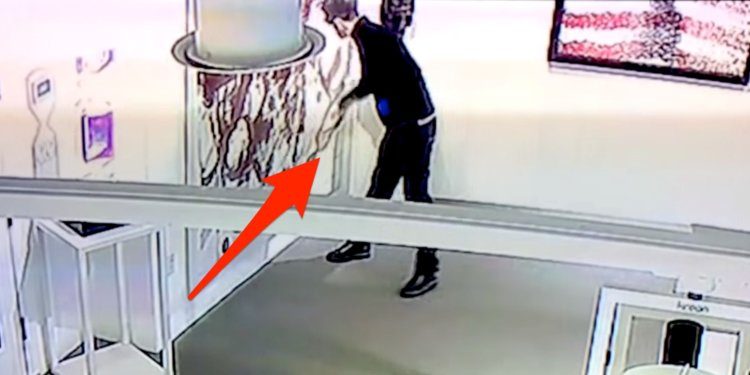 Photo: Aspen Police video screengrab
"He is the person charged with directly damaging this painting," Aspen prosecutor Don Nottingham said on Wednesday, when the results of the investigation were made public. A warrant for Morley's arrest has now been issued by a district court judge.
Soon after the incident, Aspen police discovered that "Untitled 2004" was owned by Harold Morley, a dentist turned property developer living in Barbados, through a holding company called Fallowfield. At first, the 74-year-old owner told police that he and his son Nicholas co-owned the damaged painting, but subsequently changed his statement, saying that Nicholas "just signed for the consignment". He added that neither he nor his son recognized the suspect captured by the gallery's security cameras.
Things started getting strange on May 5, 2017, when Harold Morley sent a letter to the Opera Gallery in Aspen, saying that the slashed painting "can be easily restored" and that he did not plan to file an insurance claim. He also asked the gallery to put out a statement that the slashing was "only a minor incident", and instructing them to "play the whole affair down as over enthusiastic reporting" by local newspapers.
"In the same vein the police investigation should be calmed down and they be quickly informed that Fallowfield are very relaxed about the whole affair since Wool is an appreciating asset and the repairs will be all but invisible," Harold Morley's letter states, according to the affidavit. "It is a shame that as owners we were not consulted before the news story went public."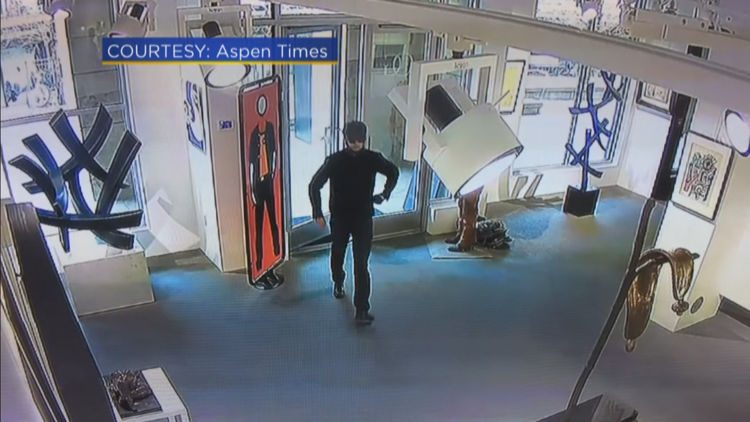 Photo: Aspen Police video screengrab
A day later, the painting's owner sent a text message to the gallery owner, asking him to "defuse any idea that the painting is destroyed or even devalued," and adding that he wanted to block or remove online video of the slashing, restore the artwork, and then sell it for even more money.
"We could even put it up for sale now for $3.5m on the basis it is 'famous,'" Harold Morley wrote, according to the affidavit. "Since we are not making an insurance claim there is no reason why the recollection of the incident should not be eliminated as quickly as possible from staff and public. Then it just becomes 'folklore.'"
On May 10, Nicholas Morley wrote to the gallery as well, saying that Fallowfield did not plan on holding Opera Gallery liable for the incident and adding that "It would appear possible based on the video footage (and is our judgment) that this was an accident rather than malicious damage". Based on this, he requested that the gallery either "issue a press release that the incident was in fact an accident" or "issue no further press comments".
This wasn't really the standard attitude of owners whose prized possession had been damaged, but things got even weirder when Aspen police discovered that Nicholas Morley had flown from London's Heathrow Airport to Minneapolis-St. Paul on May 1, a day before the slashing incident, under the name "Nicola Marley". He drew some attention to himself by presenting a passport with his real name on it and the airport gate agent caught the discrepancy. The affidavit states that Morley then flew from Minneapolis to Denver. Airport surveillance footage shows Morley's arrival at both US locations.
Denver airport police discovered that upon his arrival, Nicholas Morley rented a blue 2017 Hyundai Velostar under the name Nikola Marley, which he returned on May 4 after driving 246 miles, according to a car rental company official quoted in the affidavit.
It should be mentioned that a one-way trip from Denver to Aspen is approximately 223 miles, which suggests that the rented car did not travel from Denver to Apen and back. According to sources close to the investigation, it was because of this discrepancy, coupled with a lack of any official proof of Nicholas Morley's physical presence in Aspen, that the investigation lasted nearly a year.
However, that time was used to gather enough evidence to place Morley under accusation for the painting slashing. An Aspen detective confirmed that Nicholas Morley used a business credit card registered to himself to pay for the rented car, and another business card registered to his wife, to book a room at the local Ramada Hotel.
Also, the gallery employee who witnessed the slashing of the painting, identified Morley as the perpetrator, after seeing his picture online. The person pointed out his "crooked nose, his jawline and the lighter colored mustache" as proof that it was him, the affidavit states.
Nicholas Morley's whereabouts are currently unknown, prosecutor Don Nottingham told The Aspen Times. His motives are still unclear.
I don't know about you, but I can't wait for a movie based on this story to come out.