A male student at the Universidad Mayor de San Miguel, in Cochabamba, Bolivia, was recently apprehended while trying to take the college entrance exam on behalf of a female applicant, disguised as a woman.
19-year-old Bryan G. was already a Systems Engineering student at the Universidad Mayor de San Miguel, but on February 6th, he tried to once again take the entrance exam at his college, this time on behalf of a female applicant. To fool university staff, he put on a wig, applied makeup on his face and dressed in women's clothing. Unfortunately, he was seated at the front of the exam hall where all the professors and assistants could see him, and because he looked more nervous than the other applicants, he quickly attracted their attention. Just as Bryan was about to receive his exam sheet, an assistant came over, asked him who he was, and when he answered "Jocelin C.", the man told him "You are not that person".
Photo: Red Uno de Bolivia/YouTube
"I was in the front seats and a teacher or assistant saw me," Bryan told police. "I was about to get the exam sheets, but he said 'you are not that person', and I was very nervous so I confessed."
Asked why he tried to deceive the university, the 19-year-old originally said that he was contacted by a relative of the female applicant on the OLX online marketplace and offered money to take the exam on her behalf, because she was away. After he accepted, the contact sent him her university application card and even booked him a makeup session to make his disguise more believable.
"I did not want to do anything bad, I just did not have a job and that's why I accepted," Bryan said. "I've never done this  before, I love studying and I want to go to Japan to specialize. I don't want any trouble!"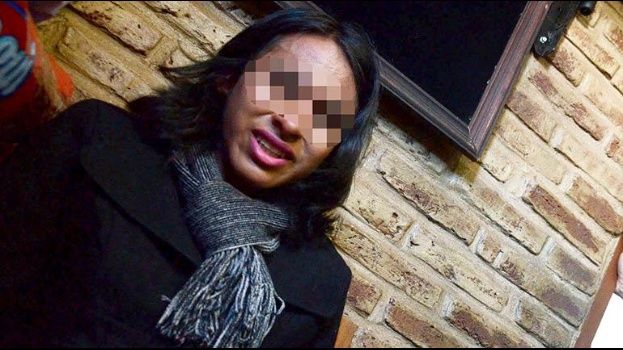 Photo: Los Tiempos/Daniel James
However, according to El Deber, he later changed his statement, saying that he did it out of love, to help his girlfriend. So it's safe to say that right now his motives are unclear.
Luckily for the 19-year-old impostor, the police can't take any action against him, because impersonating a university applicant for the entrance exam is not a crime. Things would have been different if he had signed the exam sheet, as that would have been a case of forgery.
Juan Rios, the rector of the Universidad Mayor de San Miguel, told La Razon that there is no specific rule that punishes students for impersonating applicants, adding that it will be up to the board to come up with a proper punishment for Bryan G.. As for Jocelin C., the girl this student posed at, she is not yet enrolled at the university so it's unclear if any measures can be taken against her.
In a video interview with Red Uno de Bolivia, rector Rios later said that both Bryan and Jocelin will be banned from the Bolivian public university system, making it impossible for them to apply to any public university in the country.