A 23-year-old English man who has never been on a date in his life is trying to find a girlfriend by advertising himself on a large highway-side billboard near his home city.
Ed Chapman claims to have spent his teenage years and his early 20s trying to find a girlfriend using more conventional means, like socializing and using dating apps, but with no success. So the 23-year-old man from Leeds, in the UK, decided that it was time for desperate measures. He put up some serious money to rent a large advertising banner next to the M621 motorway that goes into Leeds and crossed his fingers. He has already had more success with it than he did in his entire life, as he claims to have been overwhelmed by the number of messages from potential girlfriends.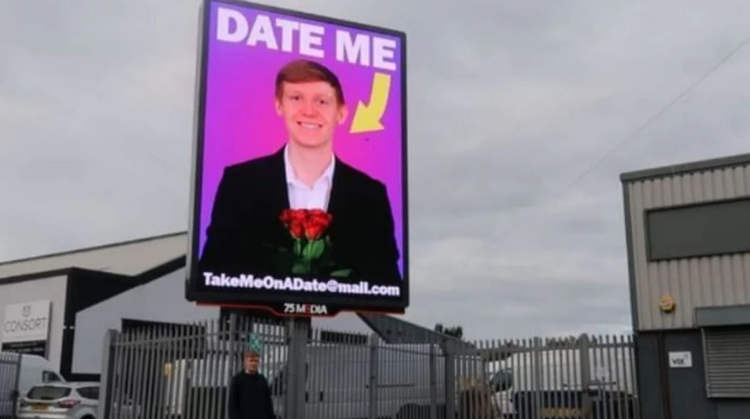 "I reached an age where I thought I at least should have been on one date before. But I've been single for all of my 23 years and I'm ready to find someone to hopefully be in a relationship with," Champman said.
"I had tried some dating apps, but it didn't go well for me at all, so I decided I needed to try something different and thought having my own billboard would be a good way of meeting people," the 23-year-old added.
Putting up a large banner with your face on it and the simple message "Date Me!" takes some courage, especially from someone who's never been on a date before, but in Ed's case, the risk seems to be paying off. Apparently, he received his first message from a woman interested in dating him on the first day that the billboard went up.
"I received my first message on the same day the billboard went live and since then, I've had a few messages from women between the ages of 18 to 48," Ed told Caters News. "It's quite a mix. It's really exciting and a sign there's something positive to come."
Billboards have been used by others to find love. A fellow Englishman struggling with dating apps did it last year, a mysterious Mormon millionaire made headlines with the same tactic in 2019, and a single entrepreneur advertised himself in the same way back in 2013.