A mysterious Mormon millionaire has been making news headlines for his unusual approach to finding a new wife – posting large ads on roadside billboards in Utah asking women to audition for an exclusive group date.
If you've been driving down Interstate 15 in Salt Lake City over the past month, you've probably seen several roadside billboards advertising a date with a mysterious member of The Church of Jesus Christ of Latter-day Saints. They read "LDS Millionaire looking for his wife," and invited potential candidates to sign up for an "exclusive VIP event" on June 7, via a custom website. The ads were pretty basic, and you would be excused if you thought they were a joke, but according to self-proclaimed "LDS matchmaker" Erin Schurtz, they are legit.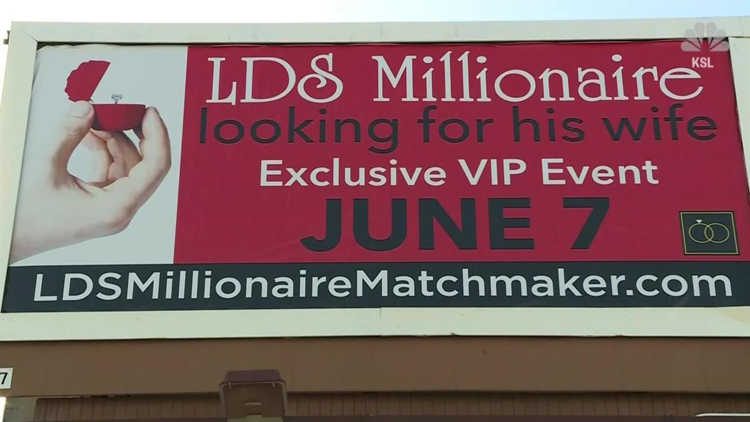 Photo: KSL video screengrab
Scurtz told the Salt Lake City Tribune that she was the one who set up the gimmicky matchmaking campaign on behalf of a wealthy client who wanted to attract as much attention as possible. Well, he definitely reached his goal, as by Monday May 7th, 326 women had already signed up for the exclusive event, a group date with the mysterious millionaire. Considering the billboards were left up until May 30st, as well as the attention generated by media coverage, the final number of applicants probably reached into the thousands.
Applications for the millionaire matchmaking event closed on May 31st, but the LDSMillionaireMatchmaker.com website advises those who missed their chance to sign up for future such events. Those who submitted their applications in time were asked to fill out a form with a drop down menu featuring several fields, like "body type" (slender, athletic, average, a few extra pounds, large, or petite). Candidates were also asked to answer religion-related questions like "Did you serve an LDS Mission?" or "Are you currently a worthy temple recommend holder?", and supply two photos of themselves.
Now that the signing up process has been completed, Erin Schurtz and the mysterious millionaire will go through all the applications and select 20 worthy candidates that will have the privilege to go on an exclusive group date with the eligible bachelor, on June 7.
"This person has tried lots of different avenues and hasn't been successful yet. He's a great guy and has so much to offer," Schultz said, describing her client as a 30 to 45-year-old "handsome" millionaire, and former White House staffer under a Republican president.
In a statement obtained by the Salt Lake City Tribune, the mysterious bachelor tried to explain why he decided to advertise that he was looking for a wife via roadside billboards:
"It signals that I have achieved an ability to provide for a family, but is not designed to signal that I'm looking for a gold digger," the man said. "But if this marketing campaign helps me reach some potential dates who I can get to know better, then it has been a successful campaign."
Interestingly, this isn't the first time someone uses billboards to look for love. Back in 2013, we wrote about Gordon Engle, a middle-aged Chicago-area businessman who rented a billboard overlooking the Stevenson Expressway to find women willing to go on a date with him.